4 Year-Old Accidentally Shoots And Kills Woman With School Resource Officer's Gun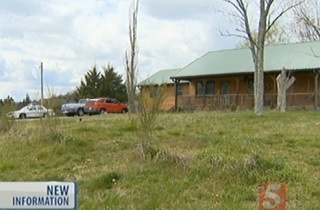 Part of the National Rifle Association's recently-revealed school security plan involves training and arming school personnel like teachers and administrators, but a recent tragedy illustrates the risks involved with putting kids and guns together, even with a diligent, highly-trained law enforcement officer around. On Saturday, Wilson County, TN Sheriff's Deputy Daniel Fanning, a school resource officer at two elementary schools, was showing his gun collection to a friend when his 4 year-old nephew grabbed one of the guns and fired a shot, killing Deputy Fanning's wife, Josephine Fanning.
From Nashville's WTVF:
The Sheriff in Wilson County talked on Monday about a weekend accident that killed the wife of one of his deputies. Authorities said a 4-year-old who gained access to a loaded gun during a family cookout shot and killed 48-year-old Josephine Fanning.

The shooting happened Saturday evening inside Deputy Daniel Fanning's home on S.E. Tater Peeler Road in Lebanon. Authorities said Deputy Fanning and a male relative had been looking at firearms in a bedroom.

"He was actually showing another person that was there at the house some of his weapons he had locked in a secure gun safe," said Sheriff Robert Bryan.

The sheriff said no one saw Deputy Fanning's 4-year-old nephew walk into the room.

"Split second, we're talking about seconds for that kid to walk in that room unbeknownst to them, grab that gun and it goes off." said Sheriff Bryan.

The 4-year-old picked up the loaded gun and fired it once, hitting Josephine Fanning. She was pronounced dead on the scene.

Sheriff Bryan said this was all just a horrible accident.

"He took all the precautions, he's a trained law enforcement officer, trains with weapons all the time."
The sheriff told WTVF that this incident "just goes to show it can happen at any time to anyone."
Since shortly after the tragic mass shooting at Newtown, Connecticut's Sandy Hook Elementary School, the President and the NRA have agreed, broadly, that armed security in schools is a good thing, but differ significantly on who should provide it. I agree with the President that only trained police officers should be stationed at schools, while the NRA is pushing a plan that would arm teachers, administrators, security guards, and volunteers. There are already states that allow teachers to carry concealed guns in school, without notifying parents. Even police officers aren't perfect, but since they are the ones who would respond to any attack on a school, it would be silly to object to them already being there. However, the school resource officers are little more than sitting ducks if we continue to allow them to be outgunned by the perpetrators of thee mass shootings.
The NRA argues that the quality of its training makes arming teachers safe, but as this story illustrates, even highly-trained, experienced law enforcement officers aren't immune to tragic accidents. The key difference between a teacher and a police officer is not just those years of experience, but the fact that a police officer's primary responsibility is the safeguarding and proper use of that weapon. For a teacher carrying a concealed pistol, that responsibility falls far down a list of occupational distractions, and is coupled with a classroom full of children whose primary responsibility is to get ahold of things they're not supposed to. As the security guard who recently left his weapon in a school bathroom demonstrates, placing that responsibility in the hands of someone other than a trained police officer is too great a risk.
Here's the local report on the Tennessee shooting, from WTVF:
Follow Tommy Christopher (@TommyXtopher) on Twitter.
Have a tip we should know? tips@mediaite.com