40% of California Driver's Licenses Issued in 2015 Went to Undocumented Immigrants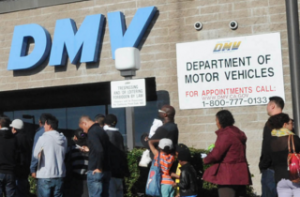 The passage of California's Assembly Bill 60 allowed undocumented immigrants to pursue driver's licenses beginning on January 2 of 2015. In the next year, 830,000 people applied for licensing under the new law. 605,000 got a license. That's 40% of the licenses that were issued in California last year.
According to The Orange County Register, the state hired 1000 temporary employees, extended Department of Motor Vehicles buildings' business hours, and opened new locations where immigrants could file for a license. It was just enough to accommodate the portion of the 2.4 million undocumented immigrants that sought licenses.
"We were surprised, but no unprepared," said spokesman for the DMV, Artemio Armenta.
Although they were prepared for the onslaught of applicants, the process required to obtain a license slowed down considerably. Even those with pre-existing appointments were waiting for hours at a time.
Santa Ana Tea Party Patriots coordinator Ann Coil said, "It certainly overloads the system and, again, we're giving priority to people who aren't citizens." She is not alone in being exasperated with the amount of undocumented immigrants in her state, either.
Still, others, like Kent Moore, a senior citizen who, by law, had to appear in-person to register an out-of-state vehicle, were as annoyed, though more sympathetic.
"I have mixed feelings," he admitted. "These folks have jobs. And they support families. If they go through the credential process, they shouldn't be denied. But I paid my dues. I've been a model citizen. I don't feel I should have to wait in line for hours, behind newly arrived people who are here illegally."
Lawmakers and pundits have to be careful about condemning the program too much, though. Historically, that hasn't always worked well, considering the amount of positive feedback the programs receive from the immigrants and their legally-residing family members. For the affected immigrants, however, there are very few complaints. One woman, Miriam Álvarez-Hernández, reported having "peace of mind" and feeling "more like a part of the community now" since getting a license.
Even more good news came from Brianne Mundy Page, spokeswoman for Donate Life California. She reported that 2015 saw an 18% jump in the number of people who registered to donate tissue, organs, and eyes while filing their paperwork and receiving their licenses.
The program also includes community outreach events and Spanish-language announcements from the DMV meant to target those thinking of getting a license. The total cost of the three-year program implementation is estimated at $141 million. Many have mixed feelings like Moore, especially because advocates of the law have pointed out that not only do undocumented immigrants benefit from the inclusion, but everyone on the road is safer when all the drivers around them are licensed.
[image via screengrab]
For more from Lindsey, follow her on Twitter.
Have a tip we should know? tips@mediaite.com