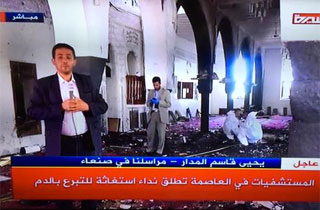 Two bombings rocked Yemen's capital this morning in an event that currently leaves 48 dead and over 200 injured, escalating tensions between the country's citizens and a new government greatly opposed by local al Qaeda cells.
CNN reports that the bombings took place at mosques serving Sanaa's Houthi population, a Yemeni ethnic minority who practice Shiite Islam and "have long felt marginalized in the majority Sunni Muslim country," and injured many of the group's political and religious leaders. Late last year, the Houthi government, comprised of an ethnic minority "who have long felt marginalized in the majority Sunni Muslim country," recently seized control of Yemen's government in a surprising coup that caused numerous countries, including America and most Middle Eastern countries, to shut down their embassies late last year.
Their coup also drew the ire of AQAP, the Yemeni branch of al Qaeda, which vowed to attack Houthi loyalists in the wake of their takeover. It is unclear at the moment if they are responsible for the bombings.
UPDATE (11:09 a.m.): The AP's latest update puts the death toll at 137, with 345 injuries, and pins the attack on "quadruple suicide bombings" at the rebel-controlled mosques.
UPDATE (12:08 p.m.): ISIS has apparently taken responsibility for the attacks. Via the AP:
The group posted an online statement saying that five suicide bombers carried out what it described as a "blessed operation" against the "dens of the Shiites." The bombers attacked the Badr and al-Hashoosh mosques, located across town from each other, during midday Friday prayers.

The claim, posted in an online statement, could not immediately be independently confirmed and offered no proof of an IS role. It was posted on the same website in which the Islamic State affiliate in Libya claimed responsibility for Wednesday's deadly attack on a museum in Tunisia.
[CNN]
[Image via Yemen Updates]
—
>> Follow Tina Nguyen (@Tina_Nguyen) on Twitter
Have a tip we should know? tips@mediaite.com