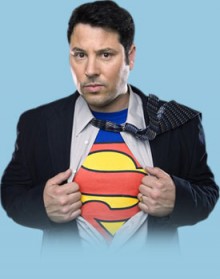 Greg Grunberg has had a pretty great career. Actually, he's in the process of having a whole bunch of pretty great careers. You may know him best as psychic cop Matt Parker from NBC's Heroes, or as the pilot from Lost, or Agent Weiss from Alias, or – as I do, and always will – as the exceptionally lovable madcap inventor, Docuventarian and one-half of Shmegan, Sean Blumberg from Felicity (those of you who get these reference, you are going to like this).
But Grunberg has other careers, despite being more than busy enough with this one thanks to all the work that comes his way via the J. J. Abrams space-time continuum – yes, that was him in Star Trek, too). He is, like  his Felicity character, a rabid entrepreneur, and has recently launched Yowza!!, a hyperlocal iPhone app that tells you where to find nearby coupons and deals – meant to give a boost to both merchants and customers in a hurting economy. He's also an activist and philanthropist, having launched the site Talk About It! to raise awareness and money about epilepsy, with which his son is afflicted; in addition to being a great initiative, the site is very cool (Sony seems to have been inspired by it, actually) and populated by his pals in the biz from across his shows and initiatives – yes that's Jennifer Garner, Kristen Bell, Chris Pine & Zachary Quinto,  John Mayer, Milo Ventimiglia, Hayden Panettiere, and even Arvin Sloan popping out of an shadowy subway system just like the new SD-6 offices (or the Alliance, or Rambaldi's lair, whatever – hard for an Alias fan to see Ron Rifkin as anything else). He's also got a band. With people from TV. Called The Band From TV. Including people like Hugh Laurie, James Denton and Teri Hatcher (on vocals – really!), also for charity. He also Twitters like a maniac and has the 1 million-plus followers to show for it.  You'd think he'd be super busy, but clearly he's blessed with superhuman energy as well, because he sent back his answers to our questions inside a day. We are welcome him to these pages as the latest in oure ongoing series 5QQ- Five Quick Questions.
1. How do you get your first news of the day?
After checking Twitter (@greggrunberg), it's actually Huffington Post that I click on for the latest. Then the FutonCritic.com for all things TV.

2. What's the biggest story the media has missed this year? (Or last week):
The Economy is incredibly important, of course, but just showing the jobless rate is not the important story to me. Losing health insurance for all of these families is the real story. I fear for so many that have been laid off and have to face the unthinkable after Cobra runs its course of finding and paying for health insurance in the event a loved one falls ill. That is the real story…
3. "Either, Or" Question: (you gotta pick one!) (answers can be pithy, or as long as you want):

(a) Diane Sawyer or Katie Couric?
Diane Couric… what can I say, I have TiVo!!
(b) SNL or The Daily Show?
Tough one. Again TiVo to the rescue!!
(c) Network TV audience of millions once a week or Twitter audience of 1,132,151 million all the time?
Since Heroes ratings are dipping dangerously close to my number of followers on Twitter, I'll say Network TV with a Twitter tie-in!!
(d) Alias Nerd Question: Sylar or Sark?
Both have 9 lives. Great actors both… But I'm going to say Sylar (for now) just so he doesn't kill me off the show.
(e) Felicity Nerd Question: Ben or Noel?
I hate the fact that SEAN was never a part of that equation. Ben or Noel or Sean? Come on!! And funny because Keri Russell and I were having an affair the ENTIRE TIME we shot the show.
(f) J.J. Abrams Nerd Question: Crazy Rambaldi Mythology or Crazy Lost Mythology? (Or, Star Trek)
Just trying to answer this question is giving me a headache. I just want to turn on the TV and stare at the pretty blue light… is that so WRONG?!
(g) Yowza!! or Shmegan?
Yowza!! will save the world!! Tons of Cash!! BEST. FREE. APP. EVER. (http://GetYowza.com)
4. Obligatory Twitter Question: Describe yourself in 140 characters or less:
I AM Twitter. I RULE the Twittersphere. Sorry… yes, I am on Twitter as @greggrunberg with over a million of my closest personal friends laughing with me everyday.
140 on Me, huh? : Family Man, 4th Year Mind Reader, Ex-Pilot Oceanic 815, Drummer/Founder BandFromTV.org, Co-creator Yowza!! & Smoothaise, Fun loving ex-CIA Agent, DILF, Kirk's Evil StepDad (use Tweet-Shorten if you need to)
5. Our usual question here is, "Are you nervous or excited about the future of journalism? Why?" In your case, I'd ask "Are you nervous or excited about the future of television? Why?" (Your answer may include the word "Docuventary").
I'm more excited than nervous about the future of television. Up until now, you could count on the fact that there were a bunch of very smart people in towers with a plan as to where the world of entertainment is headed. And it was up to us creative types to think of things to fit into their master plan. NOW… anything goes. I'm excited at the fact that I can create a show and go out and shoot it and it could have just as much of a chance of getting an audience and catching fire as something I develop through the network process. That's exciting to me. That some kid in Kansas can make me laugh my ass off using his parents camcorder and posting it to YouTube is not a threat, it's exciting. Technology is our friend…
Follow Greg on Twitter here, rock out with him and his teevee friends here, get caught up on Heroes here, download Yowza!! here, and for God's sake, TALK ABOUT IT! here.
Have a tip we should know? tips@mediaite.com