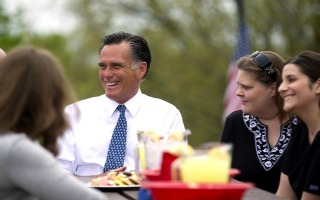 After Republican presidential candidate Mitt Romney ignited a firestorm when he referred to a local Pennsylvania bakery's cookies when he said "they came from the local 7-Eleven or whatever." A 7-Eleven spokeswoman has responded to the scandal tentatively known as "cookiegate," saying "Mitt Romney is right."

RELATED: Mitt Romney Heckles Beloved Bakery, Says Cookies 'Came From The Local 7-Eleven'

New York Magazine is reporting that a Margaret Chabris, a 7-Eleven convenient store chain spokesperson, is quoted as saying that "Mitt Romney is right" about his impression of the appearance of the cookies from Bethel Bakery.
New York Magazine's Dan Amira writes, "the company isn't upset at the presumed GOP nominee. Because, even though Romney was insulting 7-Eleven's cookies, at least someone was finally acknowledging the cookies!"
"There are bakeries dedicated just to delivering and making fresh baked goods every day, 365 days a year, for 7-Eleven stores. So we were very amused, because he got it right." Chabris added that, to show Romney what he's missing, 7-Eleven is even going to "send some [cookies] to his campaign headquarters in Boston so he can try them out."
It is not clear whether this weighing in of the 7-Eleven chain will put the controversy surrounding "cookiegate" to rest. With the internet still buzzing about "doggate" and "Nugentgate" and the "mommy wars" (See Alex Alvarez's post about the "Age of Outrage in Politics" for a full accounting of the present myriad "gates"), it is unclear whether the Web's meme-hunters have either the time or outrage to expend on rapidly deflating controversy surrounding Romney's tactless assessment of free baked goods.
Have a tip we should know? tips@mediaite.com