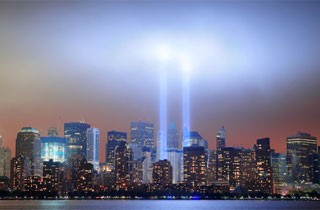 Nearly 13 years after 9/11, America is fatigued by the thought of counterterrorism, but a new report from the bipartisan 9/11 Commission just emerged with a new warning: the threat of terrorism is back, and bigger than ever.
"The world is an even more dangerous place these last few weeks and months," Commission Co-Chair Lee Hamilton said during a briefing at the Bipartisan Policy Center, according to the Daily Beast, with groups like ISIS beginning to take aim at US aviation.
But the biggest obstacle to effective counterterrorism, they declared, is "dysfunctional" Congressional gridlock: while the legislative body had taken most of their recommendations into account, it absolutely failed to streamline its committee oversight process (in fact, the number of committees created to deal with homeland security and counterterroism "ballooned" to 92). "The Congress of the United States is failing us, and failing us badly," said former Republican Governor James Thompson, who was also on the commission, adding that perhaps the members of Congress were too vain to cede control.
The likelihood that Congress is going to get its act together and put together a bipartisan commission to resolve the problem? Fairly low:
Republican Michael McCaul, who chairs the House Homeland Security Committee, took the criticism well, agreeing that "policy-wise, it's the right thing to do," to overhaul the committee system. But, he added, "Politically, it's a problem. Jurisdiction is the holy grail." Hamilton called the current structure "antiquated," and said if there were a secret poll of all 535 Congressional lawmakers, most would agree it's outdated. But with no member of Congress willing to give up turf, Hamilton said any restructuring would have to be accomplished by four people, the leaders of both parties in the House and Senate.

But, judging by the murmurs in the audience and the elevator talk afterwards, a jurisdictional overhaul of Congress is not going to happen any time soon.
Meanwhile, the threat of renewed terrorist attacks looms, according to the committee: "We've got to get ahead of these guys, not behind them," said another member of the famed commission.
[The Daily Beast]
[Image via Shutterstock]
—
>> Follow Tina Nguyen (@Tina_Nguyen) on Twitter
Have a tip we should know? tips@mediaite.com