A Broken Joe Paterno Gives Sad, Insightful Interview To Washington Post's Sally Jenkins
A Broken Joe Paterno Gives Sad, Insightful Interview To The Washington Post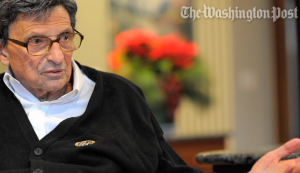 Former Penn State football coach Joe Paterno, 85, has been relatively mum since his dismissal — by phone call — as head coach of the football team. But after undergoing chemotherapy for lung cancer, and forced to a wheelchair because of a broken pelvis suffered in December, Paterno decided to open up to the Washington Post's Sally Jenkins in a story that ran on Saturday.
Wearing a wig because of the devastating effects of the chemotherapy, Paterno spoke to Jenkins from his home, surrounded by his wife and children. He explained why he didn't do more in ridding Penn State of Jerry Sandusky, his long-time assistant accused of molesting over 50 children:
"I didn't know exactly how to handle it and I was afraid to do something that might jeopardize what the university procedure was," he said. "So I backed away and turned it over to some other people, people I thought would have a little more expertise than I did. It didn't work out that way."
The men he turned it over to are now facing perjury charges.
Paterno's version of how the Sandusky events played out offered some new insight into a case that has been relatively vague since the first couple weeks of detials leaked out. Paterno said that he only had a professional relationship with Sandusky, and he believed that the defensive coordinator's abrupt retirement in 1999 came because Paterno had told him that he wouldn't be his successor. His reasoning for telling him that now seems especially chilling. Jenkins writes:
Paterno was frustrated that Sandusky spent so much time working on his youth foundation, The Second Mile, that he was not available to help in recruiting and other coaching duties. Authorities now say Sandusky used Second Mile to meet and groom his alleged victims.
Sandusky's actions were eventually brought to Paterno's attention in 2002 by Mike McQueary, then a graduate assistant. Paterno confirmed that McQueary spared him the more gruesome detials of what he witnessed. Still, when Sandusky was arrested last year, Paterno was caught in the cross hairs. After being fired and publicly scorned for his supposed inaction in the matter, Paterno says he holds no ill will towards the only school he has known for the last 61 years.
"I'm not as concerned about me," Paterno told Jenkins. "What's happened to me has been great. I got five great kids. Seventeen great grandchildren. I've had a wonderful experience here at Penn State."
You can read Jenkins' full interview with Paterno here.
Have a tip we should know? [email protected]