A Day Without Wikipedia: A Survival Guide To January 18, 2012's Internet Blackout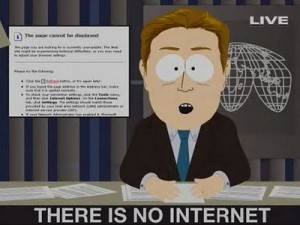 It's the end of the world as we know it and I feel fine.–REM
Your worst fears have come true, the internet has come to a screeching halt — sorta. For a whole day, as part of the anti-SOPA protest, there will be no Wikipedia, no Reddit, no MoveOn.org, no Raw Story and no BoingBoing. That's practically the entire World Wide Web, but let's be honest, Wikipedia is the one you'll probably miss the most, and you found this article Googling for "alternatives to Wikipedia."
Today's internet blackout conundrum is like trying to find restaurants open on Christmas Day, they exist, but you're probably going to have to eat Chinese food.
All is not lost, as Twitter is expected to be fully functional today. But if you're a student, Twitter likely won't help you finish your essay that's due in an hour. Where can you find a working encyclopedia today?

The Alternatives To Wikipedia

Wikipedia – Wait, I thought Wikipedia was shut down today? Actually, you can still access their database through their mobile site — or turn off Javascript in your browser, or use Google cache to access articles, which may or may not be up-to-date. Mediaite's Phillip Bump has created a site where you can search the cache at http://pbump.net/wiki/. And Inside Cable News directed users last night to "block http://wikimedia.org" if you're using Firefox and NoScript — "and BANG! You're back in!"
Everything2 – A pre-Wikipedia database of "everything" but mostly anecdotes, no neutrality and no power to edit, which is what some attribute to its failure to compete with the more successful free encyclopedia. Still a great resource. The Seattle Monorail has only one stop article pretty much captures the essence of the site.
Encyclopaedia Britannica has 120,000 articles that are accessible with a 30-day free trial.
Scholarpedia is a site in the spirit of Wikipedia, but each article is "authored by a top expert who is sponsored by two existing curators" and then "peer-reviewed and validated by two independent curators." This Week's Hollie Clemence says "if you're researching computational neuroscience it's perfect, but looking for the capital of Kosovo and you'll need to search elsewhere."
Citizendium is an online encyclopedia that argues it exists because "we can do better" than Wikipedia. It criticizes Wikipedia as an amateurish, "disconnected grab-bag of factoids, with no coherent narrative" rife with errors and bias, and is "part anarchy, part mob rule." In other words, Citizendium really hates Wikipedia. The site hosts 16,153 articles "at different stages of development, of which 155 are expert-approved."
Conservapedia offers an encyclopedia that doesn't allow liberal bias. "No other encyclopedic resource on the internet is free of corruption by liberal untruths," the site boasts.
The Free Dictionary Encyclopedia is compiled from a number of sources, including Wikipedia content.
(Correction: Fark and CraigsList are still accessible through a link from a homepage advocating against SOPA)
Have a tip we should know? tips@mediaite.com