A Fisherman on MSNBC Just Called Lifelong Millionaire Donald Trump a 'Self-Made Man'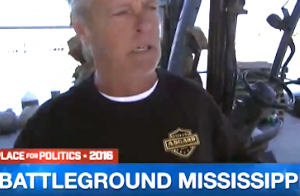 After Donald Trump — who was born to the successful businessman son of another successful businessman, both of whom were influential enough to have their own Wikipedia pages independent of their relationship to the Donald — has joked and spoken about shooting people, punching people, and barring people from the country, plenty of pundits and voters have asked, "Why are people still voting for him?" MSNBC's Cal Perry headed to Pass Christian, Mississippi, to find out.
As Chris Jansing pointed out during the segment, Mississippi has a poverty rate that is 7% above the national average and Trump seems to do well in Southern states that have high rates of poverty. That Trump — a man who attended an expensive college preparatory school in his youth before being shuttled off to military school by his wealthy parents and eventually making his way to an Ivy League university — would do so well with this particular demographic has always been surprising.
Perry trekked to a dock where workers were unloading bags of oysters to ask what Trump's appeal was for them.
An interviewee named Keith Lassabe said that he liked Trump because he is "self-made" and "wasn't born with a silver spoon in his mouth." He said it was important for everyone to work their way up from the bottom. Then, he abruptly turned away from Perry and got back to work.
Trump has admitted to receiving a loan of $1 million from his father when he started out in the business world.
[image via screengrab]
For more from Lindsey, follow her on Twitter.
This is an opinion piece. The views expressed in this article are those of just the author.