A Look At Herman Cain's (Now Deceased) Homeless CainTV Star's Brilliant Rants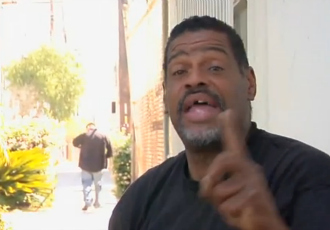 When the mind-blowing teaser trailer for Herman Cain's online network Cain TV was released Tuesday, most people took notice of Cain's strange "let's give a lamb a gun!" moment, but also of a particular show called Street Smarts, featuring a homeless man named Lewis Brown. "Even though he is a homeless person doesn't mean he is clueless," Cain told CNN's Kyra Phillips earlier today. "He probably knows more about world issues… than a lot of people who think they know whats going on."
Cain TV's website describes Brown as "a homeless guy in Hollywood who will rock your socks off with his unique philosophy on current events, and the rules of life. You just have to see and hear him go off about everyone and everything – it's too good. Prepare to be shaken up more than a little bit. And there's no use in telling him to go home – he is."
Sadly, as it turns out, the…thoughtful…Brown (who was apparently a college basketball prodigy!) has actually been deceased since September of last year. Cain revealed that Cain TV will feature the only three Brown rants captured on film before his death.
– RELATED: The Teaser For Herman Cain's Cain TV Will Blow Your Mind
We here at Mediaite are deeply saddened not only by the loss of life, but by the fact that we will only get three morsels of wisdom from the deceased Cain TV star with the catchphrase "My mouth don't write no checks my ass can't cash."
In the first episode of Street Smarts, Brown breaks down the Middle East peace process, saying that he's going to "make all of you motherf*ckers upset up in here." He explained that biblical figure Abraham had two songs: Ishmael, who is now the Muslims; and Isaac, who is now the Jews. "Now you probably never heard it put like this, but you're hearing it first because my mouth don't write no checks my ass can't cash [Catchphrase!]: They're not fighting over no land in the Gaza Strip, they're not fighting over Arab autonomy. They're not fighting over none of that. They're fighting over who is God's favorite, because they're brothers."
And the solution to this brotherly battle? "Until daddy takes a paddle and spanks that ass and makes them get along, you ain't never gonna have no peace."
"[Secretary of State] Hillary Clinton can't do nothing," Brown concluded. She couldn't handle her own husband."
– RELATED: Herman Cain Tells CNN's Kyra Phillips That His Breakout Cain TV Star Is Dead
In episode two, Brown writes another check his ass can cash, this time about gay marriage: "I don't have an opinion on folks who have a certain lifestyle," he said, "because I'm not a perfect human being."
Amen.
"God said, 'You love and let me bless,' so I think the thing is to not get caught up in what other people are doing. And that you still love them and you let them live their life and, in the end, God's gonna handle it anyway."
Sure, these occasionally-confusing rants are uncomfortable because they are the musings of a poor, possibly mentally-disturbed, drug-addled homeless man who once had a promising basketball career. But they were truly entertaining in the sense that Brown actually has a grip on the issues at hand, and made his point in a funnier, more exciting way than a majority of pundits currently on cable news.
Rest in peace, Lew.
Episode 1 below, via CainTV:
Episode 2, again via CainTV:
Have a tip we should know? tips@mediaite.com