A Look at 'Political Tourists' Who Crash Town Halls for Their Entertainment Value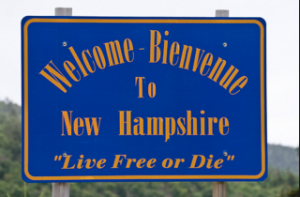 Given what I do for a living, it's obvious I see the entertainment value inherent to politics. This election season, in particular, is endlessly captivating and funny. Over the course of my career, if I am ever given the opportunity to travel to Iowa or New Hampshire to get up close and personal with the politicians who sometimes seem more like celebrities to me, I will go without question and consider it a vacation. If I weren't being dispatched to cover the event as a reporter, though, even I would decline a trip to one of the cities that play such a big role in the presidential election process.
Some people, however, don't need to be asked to go, in an official capacity or otherwise. In fact, there are plenty of curious folks who simply show up to meet the candidates and be involved in the campaign process in spite of the fact that they can't vote in the state where it's all taking place.
Today, the polls in New Hampshire are open and residents of the state are voting in their primary, which is the first in the nation. What happens tonight will have a major impact on every campaign and the election on the whole. For the past week, "political tourists" from all around the country filed into the campaign events that have taken over the state.
According to Matt Katz at WNYC, this political tourism could really affect what happens tonight. He put it this way:
At some events most of those interviewed — and most of those who ask the candidates questions — were not from New Hampshire at all. But candidates nonetheless tout the size of their crowds in press releases, which the media report on. Some voters then use crowd sizes to gauge whether candidates have a chance so they don't waste their votes.
One person actively described herself as a "political tourist" because she's interested in "interested in history, political science, marketing, campaign management." Another said that the practice of traveling to follow major political players is "like baseball spring training."
Voting has been going on since midnight and we won't know until late this evening which candidates have come out on top or whether the presence of out-of-state gawkers has affected the results. Keep an eye on Mediaite throughout the day for more information.
[image via screengrab]
For more from Lindsey, follow her on Twitter.
Have a tip we should know? tips@mediaite.com