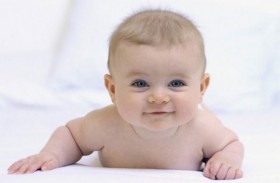 Mediaite was born at around 2 a.m. on Sunday, July 6th. Then the server crashed. Welcome to the fun-filled world of a start-up! For the past four weeks, we've taken to comparing the site to a baby: Don't leave it alone, don't expect much sleep, you never know what it'll burp up. (WordPress! How you bedevil us!). Though it's certainly forced us to stretch in ways we weren't expecting, we've enjoyed the past month — enough to look forward to sticking around for a while (sorry, Brain Trust).
It's not just because we want to see who finagles their way to the top of the Power Grid (Meacham, watch your back, Stengel's comin' for you!) – could it be that we actually….like this? Alas, early a.m. emails and chocolate/candy consumption aside, we do – it's hard not to when we're publishing gems from Ruthie Frieds to KatieBakes, to Bill Rappleye (there may be a few decades between them) — with a few Panel Nerds thrown in for good measure.  It's hard not to when "work" involves something like Office Hours (two words: JEWISH SINGING). It's hard not to with Dan Abrams standing over our desks every day telling us what to write. Kidding! That was just to see if you were paying attention.
Speaking of attention, thank you, dear readers, for yours — after one month, we're pleased to have clocked 1.2 million pageviews, with pickup from Perez Hilton to Paul Krugman, Howard Stern to the White House, Martha to MuggleNet. (Is it bad that I was most excited about MuggleNet?) And also, sports people and sports stuff! See, we weren't just in it for the fish!
No, we're in it for love —and money, of course. It's never been a better time for media! But actually, we're sorta in this for the love. After a month, we've actually had a pretty hilarious time. Our team is small but busy and excited to keep on trying new things, and our contributors are perceptive and entertaining. And, not to brag, but we really do have the best freaking interns in the business. Words cannot express, but their Twitter feed is a good start. You should come visit our office, you'll see. We have candy. And a hula-hoop. It's like Talk magazine circa 1999! Hm, perhaps not the best metaphor. Let's just take that asterisk from the headline and put it here.* But hey, it gives us at least another month. So please stick with us until then!
In the meantime, please enjoy this photo gallery – "A Month of Mediaite" – featuring a selection of images from our launch and first month of existence. Thanks again for your feedback, constructive criticism and support.
Related:
Mediaite Columnists
5QQ – Five Quick Questions
Office Hours
Mediaite Jobs Board!
Photogallery: A Month of Mediaite
Photo of Little Baby Mediaite via weblogs.wpix.com. If your baby is cuter, send us a pic at tips@mediaite.com.

Have a tip we should know? tips@mediaite.com