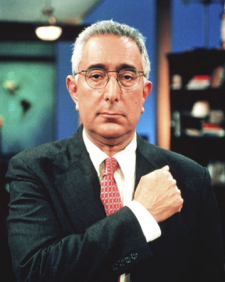 Yesterday another high-profile New York Times columnist bid the paper adieu. Just this past January Bill Kristol departed his Monday slot after a year of almost non-stop criticism, and yesterday the paper fired Sunday business columnist Ben Stein. Stein's firing, it should be noted, was not the result of unsatisfactory content (in the NYT's mind at least!), but because the paper felt he had violated its ethics rules by appearing in FreeScore.com commercials. The result however is the same: some of the most valuable real estate in media has just been freed up!
There's no shortage of good writers looking for a job these days, and there is certainly no shortage of opinions on the economy nor has there arguably ever been a greater public level of interest So who should the Times be considering as a replacement? When the Times replaced Kristol with Ross Douthat they appeared to be not only aiming to attract a younger audience (he was 29 at the time of his hiring), but also an online one — Douthat had a well-read online column at TheAtlantic.com. Will they do something similar this time? One can only hope! Here's some suggestions.

Felix Salmon: Salmon hated Ben Stein (we're not exaggerating this point…see here and here), so tapping him as a replacement for Stein would be a sweet irony for everyone who sided with his opinion. Of course, Salmon also has years of experience covering finance: he was the financial columnist for Portfolio.com and departed just before the mag folded to blog for Reuters . He would arguably bring both long-time experience (and the MSM credibility that goes with that), as well as a built-in online audience to the table. Both good things for the NYT.


Megan McArdle: McArdle currently blogs over at TheAtlantic.com, which is also where recent hire Ross Douthat came from (TheAtlantic.com, it should be noted, has a spectacular blogging lineup across the board), and before that was a The Economist. McArdle generally covers the economy, and finance and more recently has jumped into the deep-end of the Health Care debate (she is not a fan). She's also young (35) and a woman, two things the NYT could use more of.

John Carney: Carney currently blogs for Clusterstock at Business Insider and prior to that at Dealbreaker. In the interest of full disclosure it's probably best to mention that he has also on a number of occasions been called upon to explain the economy to me (not that he bears any responsibility in my continued confusion over certain numbers). Back in September, while at Dealbreaker, Carney broke the Lehman story, and more recently was so far ahead of the game on reporting a high-level firing at Merrill Lynch that the company felt it necessary to send out a nation-wide memo denying the post. The exec is question was ousted this week. If the Times tapped him not only would one more paper add a Carney to the masthead, but the Times would add some serious online cred and punched up prose to its weekly business coverage.

Matt Taibbi: The Rolling Stone journalist whose traditional provenance has been politics (and authority challenged athletes) jumped into the economic fray back in March with his much-read piece 'The Big Takeover' and again last month with his controversial 'Inside The Great American Bubble Machine.' Taibbi's gonzo journalism in the political arena has won him a fairly large and devoted following over the years. His financial pieces lately have been ruffling feathers in all the right ways. With both those things in mind the Times would probably do well to consider bringing Taibbi's rock-star quality to its Sunday pages.
Have a tip we should know? tips@mediaite.com