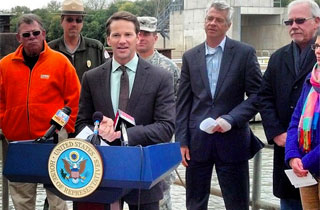 Okay, out of all the ridiculous things we've recently learned Rep. Aaron Schock (R-IL) has spent money on, a $5,000 replica of the presidential podium is probably the second most absurd purchase (number one being, of course, his office).
While digging through Schock's expenditure reports last month, USA Today discovered that the Congressman had once spent over $79,061 on furniture purchases. $5,132 of that went to a company called Mulnix Industries, and BuzzFeed discovered that the purchase may have been a $5,000 podium called "The Presidential":
In an interview, Mulnix General Manager Phil Crane said it was "very likely" he sold a Presidential to Schock, though he said he'd have to laboriously go through old records to be sure. The model was pretty popular when Mulnix made it — the company sent four to the U.S. Consulate in Pretoria, South Africa — and Crane said it sold for "somewhere around" $5,000 a piece.
Schock, who's already under fire for way too many improper expenditures, said via a spokesman that "this style podium is similar to that used by many Members of Congress at events so that members of the media have a place to attach their microphones and recorders." However, BuzzFeed pointed out that the podium looks almost exactly like "The Falcon," a medium-sized podium often used by the President that looks like this, via Reddit:
It should also be noted that while Members of Congress often purchase their own podiums, most Members normally purchase a seal that they affix to podiums whenever giving speeches.
[BuzzFeed]
[Image via Aaron Schock/Instagram]
—
>> Follow Tina Nguyen (@Tina_Nguyen) on Twitter
Have a tip we should know? tips@mediaite.com