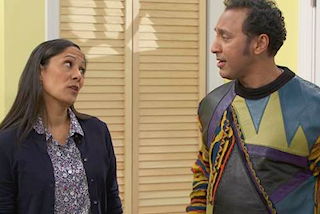 In 2010, Aasif Mandvi starred in a sketch for The Daily Show called "The Qu'osby Show." Inspired by a comment from Katie Couric, the video aimed to do for Muslims in the 21st century what Bill Cosby's 1980s sitcom did for African-Americans.
Now, more than four years later, that concept has been reborn as Halal in the Family — the name change was made for obvious reasons — and will premiere as a web series on Funny or Die this Thursday, April 9. In the clip below, provided to Mediaite, Mandvi's character must deal with anti-Muslim cyber-bullying against his fictional daughter.
"I was bullied in high school, look how I turned out," he says. "It's all part of the American experience. Kids pick on people who are one day going to rule the world, Steve Jobs, Bill Gates —"
"Barack Obama," his wife, played by House of Cards' Sakina Jaffrey, added, interrupting him.
"That Muslim guy?" Mandvi responds, to a huge guffaw from the canned audience laugh track.
The show's initial four episodes feature appearances by Mandvi's fellow Daily Show correspondents, like Samantha Bee, who plays the campaign manager for his son's anti-Sharia Law class president campaign and Jordan Klepper, who portrays a suspiciously-white Muslim neighbor. In one episode, Mandvi transforms his house into a spooky terrorist training camp for Halloween.
"Through my work on The Daily Show, I saw how satire can open people's eyes and shift perspectives on controversial topics," Mandvi said in a press release. "With Halal in the Family I had a chance to create an all-American Muslim family dealing with common forms of ignorance and prejudice, resolving them — in classic sitcom fashion — by the end of each episode. I'm excited that all four episodes will premiere on Funny Or Die, which is a trail blazer in the world of comedy."
As diverse as the TV sitcom landscape has become in just the past year with shows like Blackish and Fresh Off the Boat, there is nothing on mainstream television that tackles the Muslim experience in that same way. For now, the country will have to settle for Mandvi's satirical version.
Watch video below, via Funny or Die:
[Photo via screengrab]
— —
>> Follow Matt Wilstein (@TheMattWilstein) on Twitter
Have a tip we should know? tips@mediaite.com