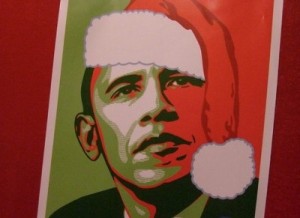 Failed Republican presidential candidate Mitt Romney's Punxsutawney Phil-esque emergence from his cocoon of defeat has many conservatives scared of the shadow Romney has cast over their party, and the candidate's divisive election post-mortem just continues to get worse. ABC News has released additional details of the former Massachusetts Governor's conference call with donors this week, and Romney's remarks on "extraordinary financial gifts" for minorities, women, and young voters don't improve any from the context.
At the same time President Obama was extending an extraordinarily generous olive branch to Gov. Romney, the vanquished Republican was holding a conference call with donors in which he chalked up his electoral defeat to political "gifts" the President had promised to black and Hispanic voters, young people, and women, such as access to contraception under the insurance that they pay for, low student loan interest rats, and a moratorium on deportations of DREAM Act-eligible undocumented young people. Oh, daddy!
ABC News has released additional transcripts of the call, which also featured contributions from Campaign Manager Matt Rhoades and campaign pollster Neil Newhouse. You can listen to more audio and read transcripts from the call at ABC News, but here are just a few of the highlights.
Bill Clinton Politely Patronizes Romney
In one part of the call, Romney recounts a discussion with former President Bill Clinton in which Romney displays all of the self-awareness of a kid explaining how handsome his mommy thinks he is:
"I spoke with president Clinton the day before yesterday, he called and spent thirty minutes chatting with me. He said a week out I thought you were going to win. And he said, but the hurricane happened, and it gave the president a chance to be presidential, and to look bipartisan, and you know he got a little more momentum, and of course he also said that when he was watching Ann speak at the Republican convention, he decided he was tempted to join the Republican Party. So he may have just been effusive with generous comments as he chatted. He was very complimentary, by the way, of how well we did with middle-class voters, and he said they were surprised by how strong we were in Ohio and in other states with middle-class voters, they did exceptionally well with minorities, but white, middle-class voters, we really cleaned up with and that caught them by surprise."
Pollster Newhouse Clarifies Blame For Black And Hispanic Voters
In case Republicans were confused by the subtle coding used by Romney (and, earlier this week, by running mate Paul Ryan), pollster Newhouse hangs a lantern on it:
"In Ohio, we won independents overwhelmingly, but there was a four percent increase in the number of African-American voters who voted in that election, so that at the end of the day in the state, there were 178,000 more African-Americans voted in 2012 than in 2008 in Ohio, and we lost the state by 103,000 … In Florida, we failed to really bring it home among Hispanic voters. We got–there was an increase in the number of Hispanics who voted in the state from 13 to 17 percent of the electorate, so that went up four points … our numbers indicate that 263,000 more Hispanics voted [in Florida] in 2012 than '08, and we lost the state by 73,00 votes."
And If You Still Don't Get It…
Newhouse goes on to explain that Romney didn't just do well with white voters:
"We thought we were doing extraordinarily well among white middle-class voters, and it was a very tight election, but the success the Obama campaign had in changing the composition of the electorate is what they owe their victory to … Mitt won independent voters by five points. He won independents in this race, and in Ohio he won independent voters by 19 points–some incredible numbers here. I mean, as much, and you look at the issues that we did well with, among voters who said the economy was the most important problem facing the country, Mitt beat Obama among those voters by 51 47. … We won white voters by 20 points, which was–a Republican candidate hasn't won white voters by 20 points I think since the 1980s–so it's really won by a historic margin. We won white women by somewhat less than that."
Romney has provided Republicans with an easy way to look good by whipping him over this, but as anyone who remembers the Republican primaries can attest, there were very few GOP voices condemning this exact sort of politicking in real time. Romney didn't invent pandering to resentful white people, he just perfected, then couldn't stop talking about, pandering to resentful white people.
Check out the rest of ABC News' coverage of the Romney donor call here.
Have a tip we should know? tips@mediaite.com