'Abomination': Roger Stone Outraged After Trump Wears Blue Suit Jacket With Black Pants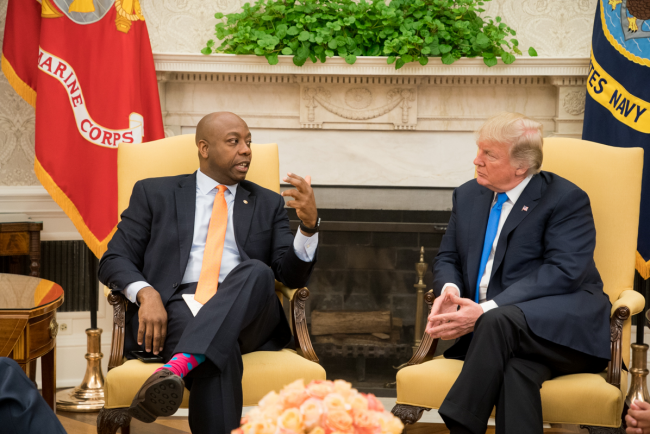 On September 13, Donald Trump met with South Carolina Senator Tim Scott. Scott, the only African-American Republican in the Senate came to "lecture President Trump on racism" after his controversial remarks about Charlottesville as Time Magazine put it.
And while succeeding days suggest Trump didn't take whatever advice was offered, longtime consigliere Roger Stone is speaking out about another issue — one he called an "abomination."
Shortly after the meeting, the White House released an image of Scott and Trump in the Oval Office with Trump listening intently as Scott opines. A closer look, however, reveals that Trump took the meeting while wearing a blue suit jacket with black pants.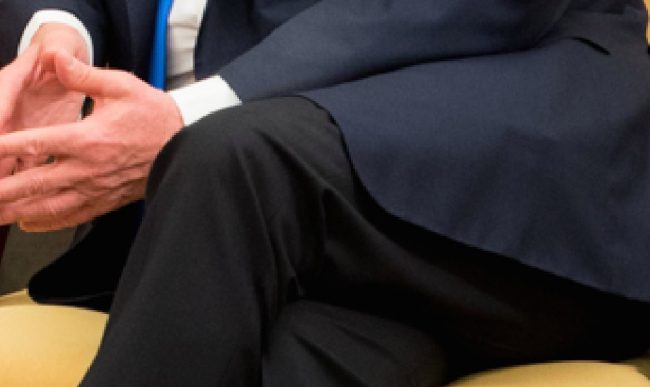 "An abomination," Stone told Mediaite "That's what it is. We can only assume Kelly is now dressing Trump."
… I'm gonna say ouch for John Kelly.
In addition to being one of Trump's oldest associates and longtime GOP powerbroker, Stone is also a known fashion plate with strong sartorial opinions. He maintains his own blog "Stone on Style," and is occasionally employed by the Daily Caller as a style editor. Last month he dinged the Caller to Mediaite for a fashion hit piece it ran on Barron Trump.
Or maybe it's something more nefarious.
Over at InfoWars — a website that regularly speculates about human pig chimeras and child slave colonies on Mars — Stone has opined that Trump could be being drugged by General Kelly. InfoWars chief Alex Jones "reported" that sedatives have been being administered to Trump through his diet coke.
[image via screengrab]
Follow Jon Levine on Twitter / Facebook.
Have a tip we should know? [email protected]