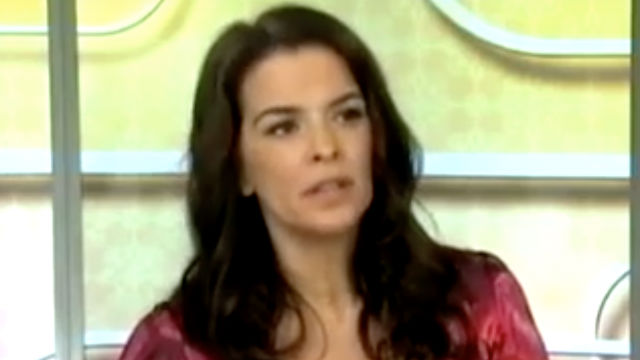 Following his bombshell report about Harvey Weinstein, Ronan Farrow has released another piece that goes into great detail with new accusers Annabella Sciorra and Daryl Hannah.
Farrow had previously contacted Sciorra, best known for her role on The Sopranos, for his first exposé about rumors that she was one of Weinstein's victims. She denied it, but after hearing the recording in Farrow's first report of Weinstein trying to get a model to come into his hotel room, it "really triggered" her because it reminded her so much of her own story.
Sciorra had done numerous projects with Miramax (owned by Weinstein) in the 90s. After a dinner, Weinstein offered to drive Sciorra home to her apartment. As she was getting ready for bed, she heard a knock at the door. She opened the door and Weinstein barged in. He circled her apartment as he began unbuttoning his shirt. He then cornered her in her bedroom. She told him to get out of her apartment.
Then this occurred:
Weinstein grabbed her, she said. "He shoved me onto the bed, and he got on top of me." Sciorra struggled. "I kicked and I yelled," she said, but Weinstein locked her arms over her head with one hand and forced sexual intercourse on her. "When he was done, he ejaculated on my leg, and on my nightgown." It was a family heirloom, handed down from relatives in Italy and embroidered in white cotton. "He said, 'I have impeccable timing,' and then he said, 'This is for you.' " Sciorra paused. "And then he attempted to perform oral sex on me. And I struggled, but I had very little strength left in me." Sciorra said that her body started to shake violently. "I think, in a way, that's what made him leave, because it looked like I was having a seizure or something."
Months after, Sciorra didn't tell anyone and never went to the police with fears it would harm her career. Weinstein sexually harassed her numerous times beyond the alleged rape.
"Like most of these women, I was so ashamed of what happened," she said. "And I fought. I fought. But still I was like, Why did I open that door? Who opens the door at that time of night? I was definitely embarrassed by it. I felt disgusting. I felt like I had f**ked up."
Daryl Hannah met Weinstein at the Cannes Film Festival at a hotel. He praised her work and asked for her room number so he could call her to schedule a meeting.
As she was getting ready for bed, the phone rang but she didn't pick up because it was getting late. She later heard a knock at the door. She looked through the peephole; it was Weinstein. The knocks quickly became pounds. Hannah was so frightened, she escaped out of her ground-level hotel room "through an exterior door." The following night, she was in the hotel room with a makeup artist and they heard the knocking that abruptly became pounding.
"And I was like, 'oh sh*t,'" Hannah said. "We actually pushed a dresser in front of the door and just kind of huddled in the room."
Years later while promoting Kill Bill: Volume 2, Weinstein barged into her hotel room with a copy of her key. Fortunately, she was accompanied by another makeup artist Steeve Daviault.
"It was scary." Daviault said. "I was there to keep her safe."
Weinstein told her to get dressed for a party that was taking place downstairs. After she arrived to an empty reception room, this took place:
As she turned to leave, Weinstein was standing by the elevator. Hannah asked him what was happening and Weinstein replied, "Are your tits real?" Then he asked if he could feel them. "I said 'No, you can't!' And then he said, 'At least flash me, then.' And I said, 'F**k off, Harvey.' " She took the elevator back to her room and went to sleep.
Hannah said she "experienced instant repercussions," with her booked flights and hotel rooms for her immediate trip to Cannes being cancelled. She told "everybody" from her manager, another producer, to director Quentin Tarantino.
"I called all the powers that be and told them what had happened," Hannah elaborated. "And that I thought that was the repercussion, you know, the backlash from my experience. And it didn't matter. I think that it doesn't matter if you're a well-known actress, it doesn't matter if you're twenty or if you're forty, it doesn't matter if you report or if you don't, because we are not believed. We are more than not believed—we are berated and criticized and blamed."
[image via screengrab]
Have a tip we should know? tips@mediaite.com