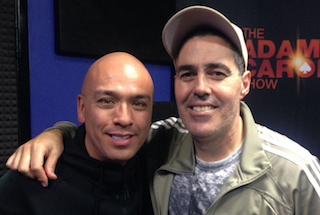 Did NPR reporter really try to "race bait" comedian Adam Carolla? On his podcast this week, Carolla relayed a story about a recent interview he recorded with an unnamed NPR host in New York, who he said tried to accuse him of racism by playing audio of an Asian stereotype character. The only problem was that the voice on the tape was not Carolla, but instead his frequent podcast guest Jo Koy, who happens to be Filipino.
In the NPR interview, which Carolla is wondering if NPR will still have the "balls" to air, the comedian said he told the host, "I appreciate you trying to ambush me, but that wasn't me. That's Jo Koy, who happens to be Asian." In response that host allegedly muttered, "Well, that helps."
"That wasn't me doing a stereotypically Asian voice, that was an Asian doing a stereotypically Asian voice," Carolla clarified. Koy, who was also on the podcast Monday, stressed that it was a "really, really stereotypical" voice. Speaking to NPR, Carolla said, "You guys gotta do your research next time you call me in and try to call me racist."
RELATED: Adam Carolla Tells Kimmel What He Would Do if He Were President
Carolla, who is currently promoting his new book, President Me: The America That's in My Head
, compared the experience to a recent interview he did with Salon, in which he said the website "baited" him into saying something that could be perceived as racist or sexist. In the controversial article, Carolla said he feels no "obligation" to lift anyone else up because of their race or gender and called out the gay community for turning into a "mafia" that demands "everyone apologize for every joke and retract every statement."
"I like to help out people that I think are funny regardless of what color their skin is or what their heritage is, but I don't look at the different races," Carolla clarified on the podcast. For that matter, he said he doesn't think there are too few black or female comedians in the first place.
The "ambush" interview Carolla described has yet to air and a source at NPR tells Mediaite that it is likely a local New York partner that put the piece together as opposed to the national public radio organization. We will update this story with more information as it becomes available.
Update — May 22, 3:50 p.m. ET:
In a statement on the matter, a New York Public Radio representative told Mediaite:
Adam Carolla was here for an interview with one of our local programs. Because the recording happened while we were also conducting a fund drive, it has not aired. There is no date for it yet.
Listen to the audio below, via The Adam Carolla Show:
[h/t TheBlaze]
[Photo via adamcarolla.com]
— —
>> Follow Matt Wilstein (@TheMattWilstein) on Twitter
Have a tip we should know? tips@mediaite.com