After Calling Off Controversial Fan Meet-Ups, 'Pro-Rape' Author Called Cops Due to Death Threats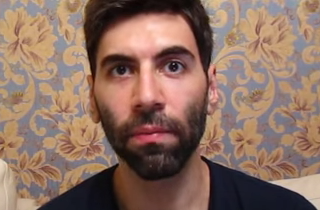 In case you don't know, there is a man out there named called Roosh V (known as Daryush Valizadeh when dealing with the law or his mother, but we'll get to both of those in time) who has been named to a misogynist watch-list by the Southern Poverty Law Center and runs infamous websites that house his articles on why rape should be legal on private property and why men should try to date women with eating disorders. He has self-published 15 books with titles like Bang and Day Bang. These are just some lowlights and there is plenty more to learn about this guy that you are free to Google, but I've gathered you here today to tell you about his proposed "tribal" meet-ups and how and why they got canceled.
Roosh V had been planning 165 meet-ups around the world for all of his fans. They were to take place tomorrow, and you may have seen elected officials and community leaders speaking out against them. As reported at The Mary Sue, these events were canceled by the embattled blogger, who is known for retroactively deeming his posts "satire" whenever he gets backlash.
New post: ANNOUNCEMENT: The Meetup On February 6 Is Cancelled https://t.co/QyXpL9pVlM

— Roosh (@rooshv) February 4, 2016
The meet-ups would have attracted "adult, heterosexual" men who subscribe to the ideals of Roosh V's site, Return of Kings. The tenets of that community's belief system are that "men should be masculine and women should be feminine" and "yesterday's masculinity is today's misogyny." Today's misogyny can also be found on his other site, Roosh V, which aims to teach men to get women to have sex with them, often through underhanded means.
New information has emerged that the meet-ups were canceled because Roosh V felt threatened, which some people feel is pretty hypocritical coming from a man who has publicly advocated for the legalization of "the forceful taking of a woman" on private property. He allegedly received death threats, just like the women involved in the Gamergate scandal, which was a pattern of strategic harassment that reached its peak last year and which he fully supported.
Here is a video in which Roosh V spends six minutes making fun of women who express fear or sadness following online harassment. He advocates for them to get beauty treatments, buy "a nice skirt" and four-inch heels, and offers to give them "free alcohol" and bring them to his bedroom.
Following the receipt of his own online harassment this week, however, Roosh V did not go to a salon or to a mall. He called the cops.
When the cops showed up, so did a few journalists, who made the discovery that he is currently living with his mother. There is certainly no shame in living with one's parents, but it's pretty inconsistent with the public persona cultivated by this particular blogger. He poses with money in front of expensive cars. He writes relentlessly about the inferiority of women in the workplace and beyond.
He is 36 and lives with his mother.
For those who are offended by everything he says and consider him a danger or a scourge, this is great news. Based on the content provided here, you are welcome to make your own inferences about his character and decide how you will react to this revelation.
If you leave now, you can just make a Friday night happy hour.
[image via screengrab]
For more from Lindsey, follow her on Twitter.
This is an opinion piece. The views expressed in this article are those of just the author.