After Contradicting Own WH on FISA Act, Trump Reverses: 'We Need It! Get Smart!'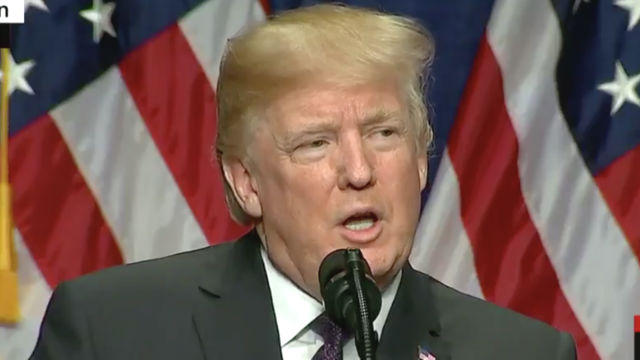 President Donald Trump appears to have accidentally opposed the official White House position in support of the Foreign Intelligence Surveillance Act after he followed the lead of a Fox & Friends segment that was critical of the law.
Trump sent out this tweet Thursday morning:
"House votes on controversial FISA ACT today." This is the act that may have been used, with the help of the discredited and phony Dossier, to so badly surveil and abuse the Trump Campaign by the previous administration and others?

— Donald J. Trump (@realDonaldTrump) January 11, 2018
However, not even two hours later after his knee-jerk comment — which seems to have been triggered by an appeal on Fox & Friends by Judge Andrew Napolitano to reject the FISA Act — Trump posted a follow-up tweet after presumably being informed by his staff of the administration's stance in support of the law:
With that being said, I have personally directed the fix to the unmasking process since taking office and today's vote is about foreign surveillance of foreign bad guys on foreign land. We need it! Get smart!

— Donald J. Trump (@realDonaldTrump) January 11, 2018
As for the official White House line on the issue, the administration's press office released the following statement contradicting Trump's original tweet this morning, "The Administration strongly opposes the 'USA Rights' amendment to the FISA Amendments Reauthorization Act… The Administration urges the House to reject this amendment."
Astoundingly, per NBC News, this awkward real-time pivot by Trump via his Twitter account has caused House Minority Leader Nancy Pelosi to request that Speaker Paul Ryan cancel the FISA vote today due to the president's clear misunderstanding of the situation.
Pelosi wasn't the only one to notice Trump's incredible back-and-forth, as many on Twitter took to mocking him and calling out the president's clear misunderstanding of the law, his own administration's position on it, and the general lack of clarity coming from the White House:
when your policy advisors tell you your official stance is actually in support of FISA reauthorization and u have to casually do another tweet two hours later https://t.co/5f8Y6Ethls

— Haley Byrd (@byrdinator) January 11, 2018
Tuesday:
DEM: "let's do a clean daca bill"
TRUMP: ok
GOP: uh you don't want that

Today:
TV: "let's oppose this FISA law"
TRUMP: ok
TRUMP, a bit later: uh, i don't want that

— Philip Bump (@pbump) January 11, 2018
If you think there's some master strategy behind TRUMP'S tweets, this should disabuse you of that notion ⤵️⤵️⤵️ https://t.co/8XvjYEj63w

— Kenneth P. Vogel (@kenvogel) January 11, 2018
Pres. @realDonaldTrump has been personally directed to fix his prior tweet https://t.co/jbS1kw2GD0

— Bad Fox Graphics (@BadFoxGraphics) January 11, 2018
A morning covering Trump: Wake up & file story on Trump tweet. Story edited & about to post. Get ready, leave apartment & phone begins buzzing. He reverses course in new tweet. Turn around & go back inside to rewrite story.

— Josh Dawsey (@jdawsey1) January 11, 2018
when you have a thought to finish two hours after you start it and also you have to tweet at your favorite TV show first pic.twitter.com/RJTrZK3FCU

— Simon Maloy (@SimonMaloy) January 11, 2018
.@Judgenap, looking straight at Fox & Friends cameras today at 6:47am, urged Trump to not back FISA reauthorization:
"Mr. President, this is not the way to go. Spying is valid to find the foreign agents among us. But it's got to be based on suspicion & not an area code." pic.twitter.com/npfzlJFT9O

— David Wright (@DavidWright_CNN) January 11, 2018
Thoughtful leaders on both sides of the aisle know FISA section 702 is a vital and carefully overseen tool to protect this country. This isn't about politics. Congress must reauthorize it.

— James Comey (@Comey) January 11, 2018
[image via screengrab]
Follow the author on Twitter (@calebecarma).
Have a tip we should know? tips@mediaite.com