After Melania Trump Said She Didn't Like Her GQ Profile, Its Author Got Anti-Semitic Threats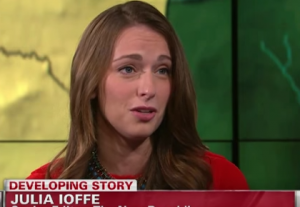 Yesterday, the GQ profile on Melania Trump hit the Internet like a ton of Slovenian bricks. She has been extremely quiet during this election season, which the profile sheds light on by highlighting her "traditional" views of her marriage and role within it. Her noted reticence made the feature on her all the more interesting, especially since, thus far, her impact on the campaign has been dictated by others' narratives, not her own.
Interestingly, she kept the focus on herself last night by speaking out about the profile, calling it "dishonest." She railed especially hard against the woman who did the reporting, saying, "Julia Ioffe, a journalist who is looking to make a name for herself, clearly had an agenda when going after my family."
Whether Ioffe went "after" Trump's family back in Slovenia is a matter of opinion and depends completely on what you feel a journalist's role really is. What is less of a matter of opinion is the fact that supporters of Trump's husband, Donald Trump, are going "after" Ioffe with force.
To warn you, the following tweets are very antisemitic.
So @juliaioffe wrote the Melania piece every pub has been wanting to get & this is how Trump supporters responded. pic.twitter.com/TA8bmoz1Ru

— Amy Sullivan (@sullivanamy) April 28, 2016
From my inbox. Subject line: "They know about you!" pic.twitter.com/zp3v2GjTeI

— Julia Ioffe (@juliaioffe) April 28, 2016
@juliaioffe From your Twitter: With Jews, you lose! pic.twitter.com/zpx985R0Q3

— Agree&Amplify (@angreeandamp) April 28, 2016
.@GideonResnick @OKnox Oh, I thought this one reminding me to swallow my diamonds was from you! pic.twitter.com/Ri6tZsyHXx

— Julia Ioffe (@juliaioffe) April 28, 2016
The Jewess @juliaioffe seems a bit salty she'll never be or look like a trophy wife. You're the reason why I canceled @GQMagazine.

— Mother (@MuffinOfHorror) April 28, 2016
@juliaioffe Whacha doing kike? you sure will make a preeurdy lampshade then it's…. pic.twitter.com/yhydH8wv9w

— Gus Chambers (@Gasthekites) April 28, 2016
Ioffe's colleagues in the media have begun defending her…
Since everyone online today seems to be sharing photoshopped images about @juliaioffe being Jewish, I made one, too pic.twitter.com/nBDTor7p8q

— Kevin Rothrock (@KevinRothrock) April 28, 2016
#FF @juliaioffe but not in a "send her a cartoon of a Jewish stereotype being murdered execution-style" kind of way

— Olivier Knox (@OKnox) April 28, 2016
#ff @juliaioffe for being a fantastic journalist and somehow maintaining a sense of humour when all around her would be losing theirs.

— Oliver Bullough (@OliverBullough) April 28, 2016
…as has the Anti-Defamation League…
@juliaioffe Yes, will forward to our research team. Can you DM with more info?

— ADL (@ADL_National) April 28, 2016
…because she has started receiving scary phone call.
Now I'm getting phone calls from a blocked number that play Hitler's speeches when I pick up. Sad!

— Julia Ioffe (@juliaioffe) April 28, 2016
Just got a call from "Overnight Caskets."

— Julia Ioffe (@juliaioffe) April 28, 2016
Today has a unique meaning to the journalist, too.
For those among you who appreciate irony: my family arrived in the US (legally) 26 years ago today. We were fleeing anti-Semitism.

— Julia Ioffe (@juliaioffe) April 28, 2016
As of this posting, she has not tweeted in about 50 minutes. Here's hoping all is well.
[image via screengrab]
For more from Lindsey, there's always Twitter or Facebook.
Have a tip we should know? tips@mediaite.com