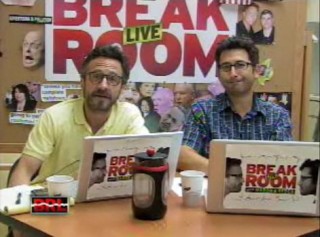 This is sad, slightly bewildering news: Air America is taking the delightful "Breakroom Live" off the air. Announced: Yesterday. Last show: Yesterday.
The show, daily at 3pm, is a live webcast starring Air America stalwarts Sam Seder and Marc Maron, both of whom are accustomed to having shows canceled on Air America, but still. The hosts announced the move — where else? — on Twitter, and engaged in a final show that was only slightly bitter (Maron: "I don't give a fuck – I'm so tired of giving a fuck, I can't even tell you").
What doesn't make sense is why. The show is good – really good – with great production values, a smart, funny banter between the hosts and great guests (Thomas Ricks, Matt Taibbi, Nate Silver), tailor made for Air America's progressive audience. When the show launched, Air America CEO Bennett Zier said it would be "a building block for Air America in becoming a multimedia company." Guess not. (Zier did not return an email sent last night asking for comment, nor was an email to Air America sent this morning returned.).
The "why" here isn't that hard to understand, obviously – a show like "Breakroom Live" costs money and presumably it wasn't earning it. (Or, as Maron said,"the beancounters have decided that our beans are empty.")
Despite the quality of the show, it's clear that Air America's progressive audience is not quite as reliable as, say, their conservative counterparts. (That is an understatement, considering the company's rocky history.) This is expressed passionately by a poster over at DailyKos, who turns the blame for the cancellation from the Air America overlords to the progressive audience as a whole:
Today, Air America is taking the excellent Break Room Live off the air.  Did you notice?  Did you ever listen in?  Or were you too busy listening to Glenn Beck to support progressive voices that would give Americans better options to listen to than Glenn Beck?

It's time to address a problem in our community, and I'm sick and tired of it.
Overuse of exclamation points aside, ZaBlanc has got a point: Air America just can't seem to hit the sweet spot on the left than the conservatives have done such a masterful job of doing on the right. There's certainly an audience – HuffPo's swelling traffic attests to that – but for some reason, Air America properties have always had an uphill climb.  Which is a shame, because if any show looked poised to make it, it was "Breakroom Live," with its professional-yet-gonzo production values, entertaining hosts and great guests (and cute babies: Seder's toddler, Myla, was a regular fixture). With Air America's history of resurrecting these two lifers, though, who knows — the BreakRoom may yet go live again. In the meantime, on his Twitter yesterday, Seder was philosophical: "[T]ough day in the breakroom – not the first time I've learned nothing lasts forever. Thanks for the support – stay tuned."
Here's the final installment:
Hat tip: Verena von Pfetten's Twitter. Fun fact about Sam Seder: He was Miranda's date who chews his meat and then spits it out on Sex and the City. Awesome.
Have a tip we should know? tips@mediaite.com