Alabama Judge's Ultimatum to Offenders Who Can't Pay Fines: Give Blood or Go to Jail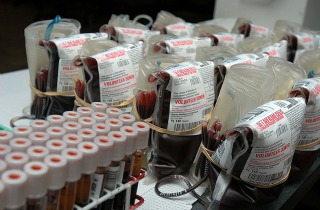 An Alabama judge is facing an ethics complaint after he was recorded telling offenders in his courtroom that those who can't pay their fines can redeem their social debt in another, um, questionable way.
The New York Times reported that Marvin Wiggins, who has been a state circuit judge for the past 16 years, was recorded by one of the offenders he was addressing last month, in which he said that hundreds of people in his docket could get a "discount" on their sentence if they participate in a local blood drive.
"For your consideration, there's a blood drive outside, and if you don't have any money and don't want to go to jail, as an option to pay it, you can give blood today," Wiggins said. "Consider giving blood and bring your receipt back. Otherwise, the sheriff has enough handcuffs for those who do not have money."
Carl Crocker took the recording to the Southern Poverty Law Center, and they filed a lawsuit against Wiggens. SPLC issued a statement on their website calling the arrangement an invasive "debtor's prison" that violates the offenders' rights to due process and protections against unreasonable search and seizure.
LifeSouth, the blood bank leading the drive, reportedly rejected the arrangement, saying it has discarded the units they collected from it, and that the employee who set it up had "acted improperly." Wiggins was called about the subject, but told the Times, "I cannot speak with you."
You can listen to the recorded comments above, via the Southern Poverty Law Center.
[h/t NPR]
[image via wikimedia commons]
Have a tip we should know? tips@mediaite.com