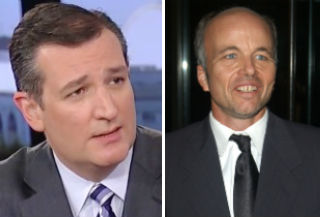 There's absolutely nothing wrong with a celebrity endorsing a politician or donating to a political campaign. (Paging ex-porn star Jenna Jameson.) After all, that's why The Hill published a near-comprehensive list of all the celebrities who have given money to the campaigns of the Democratic and Republican presidential candidates.
Yet it's the campaigns that have received few (or no) Hollywood dollars that stick out, especially Sen. Ted Cruz (R-TX), whose sole celebrity donation comes from former child star and Academy Award-winning director Ron Howard's brother, Clint Howard.
"Wait, Ron Howard has a brother?"
Yes, yes he does. And while you're probably thinking that you've never seen him before, you have. He's been in everything from the original Star Trek series in 1966, to Adam Sandler's "renaissance" of '90s and early 2000s comedy films, like The Waterboy.
Then again, Clint's support of Cruz should come as no surprise. Both were featured speakers at the American Legislative Exchange Council's meeting in San Diego back in July, though Cruz had to back out at the last minute in order to attend a senate vote. Meanwhile, Howard delivered his keynote.
This makes for an interesting game of six degrees of separation. That's because Cruz was finally supported by Clint, brother of Ron Howard, who directed Russell Crowe in a film about an American mathematician named John Nash called A Beautiful Mind. Wait, so does this mean Cruz has a beautiful mind? (And suffers from paranoid schizophrenia?)
[h/t The Hill]
[Image via screengrab/Shutterstock.com]
— —
>> Follow Andrew Husband (@AndrewHusband) on Twitter
Have a tip we should know? tips@mediaite.com