Alex Sink Knocks "Tone-Deaf" White House After Her Florida Gubernatorial Loss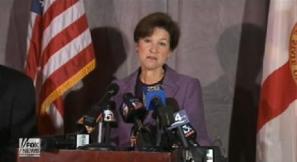 So what's the definition of Wednesday Morning Quarterbacking if it comes five days after the election?
Florida Gubernatorial candidate Alex Sink, who lost to GOP candidate Rick Scott, had some harsh words for the Obama administration in an interview with Politico days after her loss.
Sink told Politico's Jonathan Martin that the White House had been "tone-deaf" in the run-up to the election, despite having far more positive things to say about the Obama administration prior to Election Day. "They just need to be better listeners and be better at reaching out to people who are on the ground to hear about the realities of their policies as well as politics," she said.
Sink described a "disconnect between the White House and the rest of the country" while she focused on two specific issues. "They weren't interested in hearing my opinion on what was happening on the ground with the oil spill," said Sink, while regarding health care, which she said was "unpopular" among seniors, "they never acknowledged that they had problems with the acceptance of health care reform."
It's interesting to see candidates like Sink turn against the White House… now that they've lost their election. What would have happened if Sink started saying this before the race was over? Maybe she could have picked up enough Independents to win her tight race.
Here's a Fox News report about the comments, which seems to draw from parts of the Politico story word-for-word:


—–
» Follow Steve Krakauer on Twitter
Have a tip we should know? tips@mediaite.com