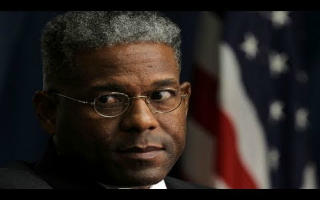 On Monday, Rep. Allen West (R-FL) said that he was "dejected" after Mitt Romney's avoided taking a strong stand on President Barack Obama's directive enacting portions of the Development, Relief, and Education for Alien Minors (DREAM) Act. "It goes back to what my mother taught me, 'a man must stand for something, or else he'll fall for anything,'" said West.

RELATED: Allen West On New Obama Immigration Rule: 'Backdoor' Way Of Letting Undocumented Immigrants Vote?
Romney appeared on CBS' Face the Nation on Sunday where he was asked repeatedly if he would repeal President Obama's directive. Romney avoided taking a firm position on the matter during the interview, but indicated that he supports the underlying reform that the President's directive has addressed.
"I believe the status of young people who come here through no fault of their own is an important matter to be considered and should be solved on a long-term basis so they know what their future would be in this country," Romney told CBS' Bob Schieffer on Sunday.
West told conservative radio host Laura Ingraham on Monday "I guess I feel a little bit dejected," by Romney's repeatedly avoiding taking a firm position on immigration.
West said he was firmly opposed to the President's move to halt the deportation of the children of illegal immigrants.
"You know the last time we had this was with King George the III, and we didn't like it too much," said West. "And I think what you're seeing is the resurrection of an imperial presidency."
On Friday, West suggested that the President's move on illegal immigration was a way of allowing undocumented immigrants a "backdoor" access to the ballot in November.
"Is this one of those backdoor opportunities to allow people in the next five months to get the opportunity to vote," West asked. "Will we see Janet Napolitano and the president come out with a new edict that says since we allow these people to be here legally, we're now going to allow them to vote? How far down the rabbit whole will it go?"
h/t The Hill
> >Follow Noah Rothman (@Noah_C_Rothman)on Twitter
Have a tip we should know? tips@mediaite.com