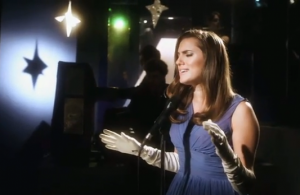 There's a tendency when the offspring of a famous person does something notable to define them by their more-famous parent. But this week, NBC Nightly News anchor Brian Williams is being defined by his insanely talented daughter, Allison Williams, who stars in the viral video sensation Mad Men theme-song mashup. "The Mad Men Theme Song, As Interpreted By The Gorgeous Daughter Of Brian Williams," gushed the Best Week Ever hed. "Allison Williams captivates in her mash-up of Mad Men's theme song with Nat King Cole's 'Nature Boy,'" raved the Daily Beast. "Hot off the presses: NBC's Brian Williams has a really hot daughter, Allison Williams," noted Crushable, mixing media metaphors but with love. "Allison Williams, Brian Williams' Daughter, Sings 'Mad Men' Theme Song (VIDEO)" said HuffPo, ever mindful of SEO.
Williams — the Younger, or…dare we call her…AlliWi? — absolutely dazzles in the video, a single-take orchestral mashup of the RJD2 song, "A Beautiful Mine" that has now become iconic for playing over Mad Men's opening credits, with Nat King Cole's "Nature Boy." According to the accompanying copy on YouTube (on the brand-new VideoRecordedLive channel — expect great things) it was the 29th take, with "no cuts, dubbing, lip-syncing or auto-tuning…[j]ust a bunch of film/music nerds getting together to do something ambitious." Clearly they succeeded. Watch it below, followed by some other of her million-view YouTube hits:


(credits at the bottom of this post)
Those of you who have followed my enthusiasm for homegrown musical mash-up videos by college students will no doubt recall my fave video from early January, "Simple, Fabulous Acoustic Lady Gaga Medley By Two College Kids Kills On YouTube." The two college kids in question were Sam Tsui and Kurt Hugo Schneider, and they not only killed as Lady G but they had a whole cadre of talented friends with whom they performed…one of whom was…AlliWi!
>>>NEXT: A ridiculous number of high-quality videos wherein college students make you feel underaccomplished
Have a tip we should know? tips@mediaite.com