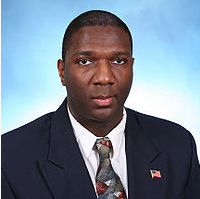 It's almost like Alvin Greene was special-ordered by the media in anticipation of the inevitable slow news days to come this summer; thus far he appears to be the gift that keeps on giving. What he is apparently not giving these days is any love to the media. It seems after countless interviews of the sort of that would have ended a lesser politician's career, Alvin Greene has started to conclude the press may not be in his corner.
The AP ran a longish (considering how few biographical facts there are to be had about Greene) profile on the South Carolina Democratic nominee for Senate today (of which the best line has to be: "He says he campaigned across the state but doesn't remember where.") which dug up few new facts but succeeded in revealing that Greene is growing tired of the media attention.
After dozens of interviews, the candidate has begun to shun reporters, wearily asking what the story is going to be about and sometimes refusing to talk.

Two weeks ago, Greene asked the same AP reporter he'd welcomed into his home to leave, saying he was "a busy man" and repeating "Go! Go! Go! Go!" while avoiding eye contact. A phone call to arrange an interview later that day was met with a gruff request to return a week later at 1:30. When the appointment arrived, Greene wasn't there. Greene answered another request for a long interview Monday by telling the reporter to call back in a couple of weeks.
Maybe he's just grown tired of saying no comment. Now he's living it.
Have a tip we should know? tips@mediaite.com