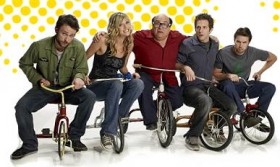 Tonight, FX's flagship comedy It's Always Sunny In Philadelphia premieres its fifth season with an episode titled "The Gang Exploits the Mortgage Crisis." If you are already an Always Sunny fan, as it is known to the converted, you know its gonna be good. If not, try to imagine the gang from Seinfeld, liquored and drugged up, arguing loudly and backstabbing each other while concocting elaborate schemes to outsmart the world around them. And failing. Inevitably failing. And Danny DeVito is there too. Wearing Coke-bottle glasses with hair disheveled, and usually waving a gun.
Since the legendary pilot, shot on a camcorder for a few hundred bucks by a group of friends, Always Sunny has had a guerrilla sensibility that is part of the show's core appeal. It feels rough and accessible, which is a big part of what the fans like about it. It's been a cheap show to make — by necessity, thanks to an initially hesitant FX —  but enough to develop a cult fanbase that has been growing steadily with the Gang's every crazy exploit (Russian Roulette in the basement, anyone?). Which has made it a good bet for FX — such a good bet that the network invested in an addtional 39 episodes back in July 2008 before the 4th season even hit the airwaves. Throw in a big time star taking notice and asking to join the fun (DeVito, who came to them), and some cameos from smart actors who know a good thing when they see it (Saved by the Bell's Mr. Belding is a gym teacher accused of child abuse; Stephen Collins, who played the goody-two-shoes Reverend Camden in Seventh Heaven, is a particularly brilliant bit of stunt casting as Dee and Dennis' real dad, who hates them). What was that about a good bet?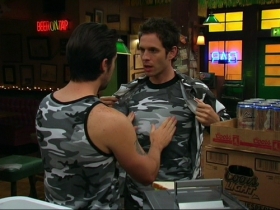 By network standards, for a show that has earned a fifth season, Always Sunny flies pretty low under the radar. Compare and contrast with, say, Two and a Half Men, which was already a national punchline far earlier in its TV life, but which will return for what promises to be another awesomely mediocre seventh season next week amidst endless promos, bumpers and teases.
But Always Sunny, perhaps as a matter of necessity, has gone a different route. Beyond its hard-core group of fans, not that many average TV viewers have heard of or seen Always Sunny, but that hard-core group is bent on getting the word out. And thanks to their fans and some damned smart marketing, Sunny is spreading big time. Call it "The Gang Goes Viral."
In July, Always Sunny began to build buzz for the upcoming season by incorporating user-generated content:  The show encouraged fans to recreate the unforgettable "Day Man" scene (in which characters Charlie and Dennis, with some chemical assistance, compose song about a mythical figure who fights the "Night Man" and is a "master of karate and friendship to everyone." More on this later). The resulting viral video, intercutting the Gang with their fans, all singing a beloved, absurd, song, pretty much speaks for itself.
Videogum called it, "the 'Single Ladies' of bored middle class white children with great taste in low budget cable market comedy programming," and that pretty much nailed it: In "Dayman," fans found something to want to learn and sing along to, know and reference. Which brings us to The Nightman Cometh.
"Day Man" aired in Season 3, but it had legs — by Season 4, it had been expanded to a full-length(-ish) musical, staged by the Gang in an awesomely amateur community-theater production in last season's finale, and featuring a princess, a baby boy, a cat-eyed villain, and jokes along the lines of what it also sounds like when you say "boy's soul." Needless to say, it became an instant cult favorite. A lark of a live performance by the cast in an LA nightclub sold out decisively, and they figured they had something: Cut to a five-city real-world fourth-wall-demolishing tour of The Nightman Cometh, which sold out the Beacon Theater last night in New York and has launched scads of road trips to Philly for tonight's hometown showing. The musical is hilarious (you'll have to trust me, since the full version has was taken off Hulu in recent weeks), and the live version sounds like it was even better, according to last night's tweeters (I'll have to trust them, since I couldn't get a ticket despite weeks-long efforts).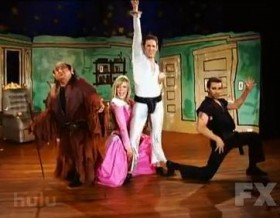 Clearly, the the fans want to be involved — and between the genuine PR for Nightman (NYT, anyone?) and the smart use of social media, Always Sunny is getting a whole lot of fast, cheap, easy and above all else genuine marketing value. The show's official website is, as CNET has noted very social media savvy, offering a trailer mashup generator, videos, show information and a twitter aggregator (hashtag: #sunnyfx). They established "Greenman Tweet Week" after another bizarre character, again reaching out to fans to don a Greenman suit and tweet the results. And if that's not enough, the Gang is on Tumblr (with some pretty hiliarious offerings) and Twitter (DeVito sounds like he is having fun). All of this serves to make the fans feel included, while, at the same time, builds buzz for the show and its season premiere tonight.
It only took five years. Hopefully for the Gang that will translate into huge ratings tonight. Or, at least, karate and friendship.

—With Rachel Sklar
Clips Below: Greenman; Charlie's Finale from The Nightman Cometh; Season Five promo.
Have a tip we should know? tips@mediaite.com