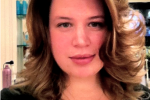 "I love you." "I want to be like you." "You're awesome," is how nearly every woman prefaced their question (and it was mainly women doing the asking) for Amy Poehler's conversation with Ariel Levy this past weekend at the New Yorker Festival.
Poehler is smart, funny, warm, confident, and knows what she wants. The child of two public school teachers, Poehler grew up loving school and was a self-proclaimed "good kid." It might sound like I'm describing your best friend, your sister, or even you — and perhaps that's the best part of Amy Poehler. What sets her apart from the rest of us is one thing: her main goal is to make us laugh.
Along the way to this goal, however, she also makes us think, feel, and be more aware about the people we encounter every day. Poehler is someone whose quotes you want to share with all of your best girl friends, which is exactly what I did after leaving the talk. I wrote down everything I remembered and emailed it out to a bunch of friends. One of those friends sent me back the following reply: "Amy is the absolute best. I love her. Like love, love, love her. She's a pure genius who is actually a good person – such a rare combination."
Rare indeed.
Enjoy the below glimpse into my sent box as I tried to electronically convey to my friends everything about the interview with the clutch-SNL-star-turned-Parks & Recreation headliner, right down to Poehler's fantastic laugh.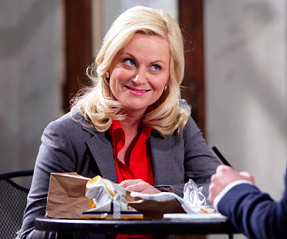 On Success
Poehler spoke about how she was happy she didn't have success till after 30, so it gave her time to experiment with her comedy and to feel comfortable. She said she spent about 10-12 years not making any money or having any health insurance, but she kept at it and kept working. She said "you have to be okay with your friends making money, spending money, getting married, having babies, buying houses, and doing stuff with their life earlier than you; but it will come."
Improv Advice
When a girl asked for advice about improv and "making it," Amy said: "Take classes at UCB. Take classes at The PIT. Take all of the classes they offer. Decide which improv place you like better and then stick with them. During these classes, you'll find people you like doing stuff with, that complement you and you all trust each other. Start rehearsing with them on the side and then go off and start your own troupe with them. Work hard for 10-12 years for no money, no health insurance, don't get sick, and you will do fine." [Insert Amy's great laugh here].
Amy in High School
In high school, she was a floater: "I did drama, but I also did sports, so I hung out with all different crowds. I didn't have a set group of friends; I was a floater. I really liked school because my parents were public school teachers. I was a good kid."
Amy and the "Smart Girls"
She talked about wanting to turn "Smart Girls At The Party" into its own online channel with programming. It's her dream. She loves the viewpoints and dreams of girls who are still young enough to not be self-conscious about their goals and life plans and aren't yet aware of boys and of how they should act/look. [I'd encourage you all to check out the site, but annoyingly, the following message comes up: This Ning Network is currently disabled due to an overdue balance." However, you can still watch the first nine episodes of "Smart Girls" by clicking here.]
"Outstanding Lead Actress in a Comedy"
An audience member asked Amy how the "Emmys thing" came about. Poehler said she was at a dinner with Martha Plimpton and they were sort of joking about how the Emmys has became an awards show that is less fun because you can't drink and it's all about what you look like and who you're wearing and the women are pitted against each other in competition. Amy said it was like Miss America. Martha agreed. Amy came up with the idea that they should all go up on stage and "get a crown and flowers, and stuff." Martha was in. Amy made the calls to all of the other nominees They were all game, but Edie Falco was hesitant. Falco said, "I'm in, but alphabetically, I'm up there first and I'm going to be so embarrassed to do that!" Amy told her she'd be the one to get the biggest laugh, "which is what you want." Edie asked if Amy would go first instead. Amy said: "Clearly I'm not one to pass up the biggest laugh — she didn't have to twist my arm!"
On Planned Parenthood
Poehler wrote a campaign letter on behalf of Planned Parenthood, which they blasted out to their entire list of supporters. That one letter drew the biggest response of any in the organization's history. I remember receiving it and even though I had made a donation earlier in the year, I donated again, specifically because that letter was smart, funny, and genuine. It took into account everyone that works at Planned Parenthood, from doctors and nurses to receptionists. It was a human appeal.
On Being [Un]like Leslie Knope
When Ariel Levy asked Amy if she was like Leslie in that she had a life plan and specific goals and was organized, Amy said, no, she was not. However, Ariel followed up with this question, which was perhaps my favorite:
"Did you ever think this is where you'd end up?"
"Yes. I knew this is where I would end up."
"Really? You answered that quickly."
"I just knew. I made a goal before any of this happened that what I wanted to do was create fun stuff with my friends and have a good time doing it." Poehler went on to mention that money can't really come into the equation with a goal like this. You have to have a goal and then just do it.
I like how Amy was confident and honest in her response. It's rare you hear a woman say something like that so unapologetically. I think this candor adds to her warmth and appeal with female audiences. Because women don't tend to say shit like that out loud, it's almost like Amy is revealing more of herself to strangers by saying what she wanted and admitting she got it. We should all strive to be that honest.
The Future
She wants to write and produce more for her friends. Maybe direct. She wants to be behind the camera more because, "it's all about power." [Insert one last Amy laugh here]
So there you go, all my smart, funny, Poehler-loving friends. Take it from Amy — the smartest girl at the party, and at the New Yorker festival.
Related:
Amy Poehler: Why Television is Good for Women [New Yorker (blog)]

Ashley Van Buren's writing has appeared on Mediaite, The Huffington Post, TDF STAGES, Women & Hollywood, and several other .coms. If you look closely, you can see her name in the rolling credits of seven feature films. @ her on Twitter: @avb.
Image of Poehler on NBC's "Parks & Recreation" via TVLine.com
Have a tip we should know? tips@mediaite.com