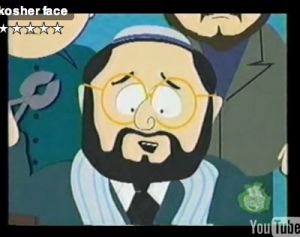 First, as far as I can tell, there was "Bad Shiksa" (FIRST!). Next there was "Eight Days of Hannukah" by Orrin Hatch, followed by a cover of Adam Sandler's Hanukkah Song by Neil Diamond. Then there was Eli Roth and Harvey Levin looking ready to take their act to the Catskills — and now, not even halfway to a lit Menorah, comes "Kosher Face," the latest take on Jews and Lady Gaga and Jews and Hanukkah and Jews and media and Jews and comedy and Jews. And they call Hanukkah a minor holiday. Ha!
This new entrant into the canon spoofs Lady Gaga's "Poker Face," pointing out all sorts of people who are members of the tribe, both familiar ones like Howard Stern, Natalie Portman, Jon Stewart, Howie Mandel, Debra Messing and Jeremy Piven, and double-takes like Daniel Radcliffe (Jewish mom), Courtney Love (Jewish mom) and Gwyneth Paltrow (Jewish dad, which you'd know if you've ever seen Blythe Danner). Though I don't know what Madonna and Britney are doing in there, is wearing a Kabbalah bracelet enough these days? Also, the usual jokes about bagels, lox, guilt, circumcision, and eons of persecution ("All the folks who try to kill us end up in defeat/The moral of the story is 'We fought, we won, let's eat'"). Thank God I did this last week. Watch below:


Other includees: Rahm Emanuel, Leonard Nimoy, Hebrew Hammer Adam Goldberg, Asher Roth, David Copperfield, Albert Einstein, Adam Sandler as The Zohan, David Lee Roth, Steven Spielberg, Golda Meir, Larry King, Andrew Dice Clay, Shia LeBoueuf, Sarah Silverman and, wait, Justin Timberlake, whaaa? (According to the Internet, no he's actually not Jewish, but his middle name is Randall.) Anyway: Don't challenge Harvey Levin based on this video but still, it's quite fun, and the "Shema-ma-ma" is quite catchy (not unlike, ahem, Ra-ra-ra-shema). Also, "Kosher Face" just sounds funny. So, well done.
p.s. Hat tip to Rob Tannenbaum of Good For The Jews, who can also claim a first for their song "They Tried To Kill Us, We Survived, Let's Eat." Wow, writing Jew jokes is getting competitive.
p.p.s. My spellcheck in our blogging software has the chutzpah to tell me that "Hanukkah" is correct but "Chanukah" isn't. Oh really Mr. Smart Guy? Congratulations on finding the definitive answer to a question that has eluded generations of Jewish scholars.
Have a tip we should know? tips@mediaite.com