Anderson Cooper From The Gulf: "We All Have Jobs To Do, And We're Doing Ours"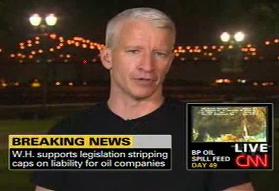 Anderson Cooper has been anchoring and reporting from the Gulf Coast for CNN for weeks – just as he was nearly five years ago. He conducted an exclusive interview with a group of oil rig survivors this week – part two airs tonight.
We talked to Cooper about why BP won't come on his show, comparisons to Hurricane Katrina and how CNN is different than the cable competition.
You can hear the full BlogTalkRadio interview below, which took place this morning. It is part of our ongoing series, "Live From The Spill" – we'll have more coming later this week.
Here are a couple key exchanges, with the full interview after:
(1:39) Mediaite: At the very least this seems like a story that will continue throughout the summer. A lot of it may not have even hit yet as far as what we're about to see.
Cooper: Yeah I think so. Hopefully they'll be able to get more of the oil up. There's still going to be a significant oil flow until these deep wells are drilled and it may not be until August sometime. It's hard to really – BP is not very forthcoming with information. If there was as much information flow as there is oil flow we'd be in a much better position in terms of assessing what's really going on…This is a company which had promised transparency early on. And I think they have not really lived up to that promise.
(6:40) Mediaite: President Obama told Matt Lauer today he wants to know whose ass to kick. It's certainly elevated level of language, what do you think about the President's tactic here?
Cooper: I saw that interview. He appears frustrated, certainly sensitive to criticisms I think that have been made toward him both by people on television and also by local people around here…He is feeling pressure and is certainly frustrated at BP and angry, and also not pleased I think with some of th coverage from the gulf. But we all have jobs to do, and we're doing ours.
(9:50) Mediaite: [Going live until 2amET on Thursday] seems like a differentiating factor between CNN and the rest of cable news.
Cooper: I think so. The fact that we've done it numerous times before – it doesn't seem to happen on a lot of other networks from what I understand. We do have a lot of resources, a lot of correspondents around, and when there's something interesting and ongoing and of importance, why not just continue with it live?
Check out the full interview, including his urging to visit New Orleans and the Gulf Coast despite the recent "punch in the gut":

—–
» Follow Steve Krakauer on Twitter
Have a tip we should know? tips@mediaite.com