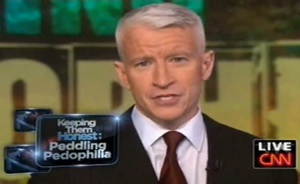 Yesterday news spread that Amazon was selling a guide to pedophilia an e-book for its Kindle product, which sparked understandable outrage and a call for a boycott of the online retailer. Last night, Anderson Cooper joined the chorus of those calling out Amazon in a frank and candid segment called "Keeping Them Honest," pointing out that Amazon's defense of "supporting the right of every individual to make their own purchasing decisions," is not consistent with the fact that they censor books all the time, namely pornography.
Cooper's segment seemed to be just the tip of the iceberg that Amazon was headed towards with this controversy, but last night news broke that Amazon reversed their decision to sell the book, removing it from the Kindle store. Writing for Business Insider, Nick Saint reports:
Responding to widespread outrage and calls for a boycott, Amazon has removed a guide book for pedophiles from the Kindle store.

Amazon initially defended its decision to sell the book, stating that it "believes it is censorship not to sell certain books simply because we or others believe their message is objectionable." Since then, coverage of the book has exploded, and the book shot on to the best-seller list.
Yesterday's brouhaha regarding the guide book for pedophilia earned the book and its author a ton of attention, and some reports suggest that it moved the book up to the 96th ranked top seller in the Kindle store. As media critic and author Adam Penenberg commented via his Twitter feed, "Pedophile book ranked 96th in Kindle store, w 2,175 1-star reviews and many of the 46 5-star ones by enraged non-readers of book."
Have a tip we should know? tips@mediaite.com