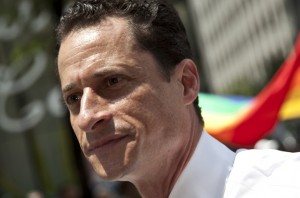 In October 2016, for a brief moment in our nation's political history, Anthony Weiner became the most infamous man in the country when then-FBI Director James Comey announced that he would reopen his investigation into Hillary Clinton's emails, largely because of the discovery that Weiner had been sexting a teenage girl. The sexts involved explicit messages, nude photos sent by Weiner, and even a photo of Weiner shirtless holding his toddler son.
Weiner and Huma Abedin, Clinton's long-time aide, have since parted ways after staying together through a number of infidelity scandals — none of which could match Weiner's twisted internet relationship with an underage girl.
Just days after the teenage girl in question sat down for an interview with Inside Edition, documents obtained by the New York Times from Weiner's lawyers, who are trying to help Weiner evade prison time and serve probation instead, reveal that they are blaming Weiner's behavior not on him — a 53-year-old man and former Congressman — but on the minor he sent naked pictures to.
Notably, according to the documents, Weiner "responded to the victim's request for sexually explicit messages not because she was a teenager but in spite of it."
His lawyers describe the girl as a tried-and-true stereotype of a young woman seeking to use and manipulate a famous, wealthy man for attention and her own profit, ignoring the girl's mental health struggles and loss of her mother — and despite how their texts clearly show Weiner desperately — not reluctantly — attempting to solicit sex from her.
Of her, they wrote she was "a curious high school student, looking to generate material for a book the government has disclosed she is now shopping to publishers," and that she aimed to "somehow influence the US presidential election, in addition to securing personal profit."
No matter how young a woman is, if she can be sexualized and nailed down with one sexist trope or another, the blame and responsibility can be neatly tucked upon her shoulders. Boys will be boys and, apparently, men will be men. And in Weiner's case, according to his lawyers, he "responded as a weak man, at the bottom of a self-destructive spiral, and with an addict's self-serving delusion that the communications were all just internet fantasy."
In a letter to the judge, Weiner took a more apologetic tone, writing that his son "will forever have to answer questions about the public and private failings of his father." He added that his actions "crushed the aspirations of [his] wife and ruined [their] marriage."
Nonetheless, it's appalling to suggest that a female child ought to be blamed and labeled a stereotypical "attention whore" while a 53-year-old married man and politician was given a pass.
This is an opinion piece. The views expressed in this article are those of just the author.