Teen Who Anthony Weiner Allegedly Sexted Wrote An Open Letter to Director Comey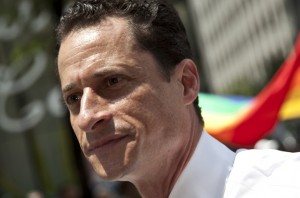 The young woman who was allegedly sexted by Anthony Weiner says that she's mad at James Comey for making her ordeal a national phenomenon thanks to his vague letter to Congress.
It was nearly one week ago when the FBI director notified lawmakers that he was looking at new emails that might be relevant to Hillary Clinton's email server. These messages were apparently discovered during the FBI's investigation into Weiner, which caused both Clinton's server scandal and the former congressman's sexual transgressions to get renewed focus.
Buzzfeed published an open letter from the anonymous teenager, where she critiqued Comey for bringing unwanted attention and calls from media outlets regarding her case:
"In your letter, you chose to use a vague approach, meaning the media had to keep searching to try and find out what evidence you had uncovered and how. Every media outlet from local to national has contacted me and my family to get my "story." Why couldn't your letter have waited until after the election, so I would not have to be the center of attention the last week of the election cycle?"
The girl said that despite her efforts to stay out of the spotlight, the FBI further victimized her by allowing for the media firestorm that followed the news. She also wrote that she expected certain protections in exchange for her cooperation with the FBI, but now, she assumes they saw her as "an opportunity for political propaganda":
"I thought your job as FBI Director was to protect me…I hope that by making my letter to you public, you will think about how your actions affect the victims of the crimes you are investigating. The election is important, yes, but what happened to me and how it makes me feel and how others see me, is much more important. It's time that the FBI Director puts his victims' rights above political views."
It should be noted that Comey mentioned nothing about the Anthony Weiner investigation in the letter to Congress.  Comey has come under fire from numerous figures lately, stating that his letter had a lot more innuendo than new hard facts, and that it caused undue interference with the election.
Weiner has reportedly checked himself into a rehabilitation center for cybersex addiction.
[Image via screengrab]
— —
>> Follow Ken Meyer (@KenMeyer91) on Twitter
Have a tip we should know? tips@mediaite.com