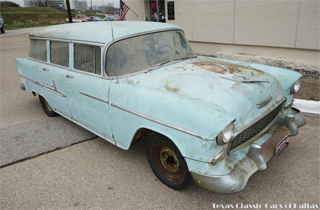 To your left is a 1955 Chevrolet BelAir station wagon with a tie in to American murder history, in that it brought Lee Harvey Oswald to Dallas where he eventually killed John F. Kennedy. You could have bought it recently!
The car, which recently was listed on eBay, belonged to one Ruth Paine, a neighbor of Marina and Lee Harvey Oswald, who drove the would-be assassin to Dallas to interview for a job at the Texas Book Depository.
Paine, surprisingly, is still alive and spoke to News8 about her car:
Ruth Paine remembers her old Chevy. She's 82 years old, lives in Northern California now and spoke to News 8 on the telephone Thursday. Ms. Paine said she sold the BelAir to a neighbor for $500 in the late 1960s.

She said she does remember taking Lee Harvey out in it trying to teach him how to drive just a few weeks before the assassination but he couldn't steer that BelAir very well.

Paine's neighbors kept the vehicle in a garage but it has deteriorated over the decades and no longer runs but remains part of the historic puzzle.
Sadly, someone (the government) has already purchased the car (to remove the mind control device), so you will never be able to own the car (and prove that the Cuban Illuminati Men in Black caused the assassination). But you could have cracked one of America's biggest mysteries for the low price of $11,211.00!
Watch below via WFAA:
[King5.com]
[Image via Texas Classic Cars of Dallas/eBay]
—
>> Follow Tina Nguyen (@Tina_Nguyen) on Twitter
Have a tip we should know? tips@mediaite.com