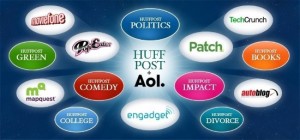 The effects of AOL's recent acquisition of The Huffington Post on the media landscape is a hotly-debated topic these days, and the ramifications are being felt by AOL's flagship political blog, Politics Daily. Many current (and some former) PD writers have expressed anxiety about the site's future under Arianna Huffington's control, so Politics Daily Executive Editor Carl Cannon, speaking directly with Mediaite, has responded to some of those concerns.
Since the HuffPo purchase, many current and former Politics Daily writers have expressed reservations to me about the site's future, citing significant cuts in pay for writers at Politics Daily, the Huffington Post's infamous reticence to pay all but a privileged few writers, and their status as a content competitor to Politics Daily.
In the run-up to the purchase, AOL shut down a raft of its other websites, including Asylum.com, for whom I have written since June of 2009. Asylum was doing monster traffic, and unlike many AOL sites, didn't depend on the AOL network for external clicks. But like Politics Daily, Asylum did place a premium on talented freelancers, and paid them very well compared to other online entities. In hindsight, the shutdown of Asylum (and others) could be seen to have been in anticipation of acquiring a high volume of content on similar topics, from people who write for free.
Another possible obstacle for Politics Daily to surmount is the fact that Arianna Huffington will now control the AOL Welcome Screen, the portal that drives millions of AOL users to network content every day. Welcome Screen placement is determined at twice-daily pitch meetings, and is highly coveted. If Arianna has a choice between promoting political content from HuffPo, versus similar content from Politics Daily, the result could be a severe erosion in PD's traffic. Politics Daily's emphasis on deeper coverage (as opposed to just getting something up first) adds to that challenge.
Finally, I would observe (as a founding contributor to PD) that Politics Daily Editor-in-Chief Melinda Henneberger and Arianna Huffington each have their own very strong, not always compatible, vision for how to cover politics. When it was first created, Politics Daily was pitched, internally, as sort of an antidote to the Huffington Post, and contrasts between the two sites' approaches were key to those internal communications. Henneberger's vision was so strong, in fact, that several AOL execs told me, at the time, that she was given an unprecedented level of creative carte blanche. Now that Arianna Huffington holds even greater influence, the potential for conflict presents a further obstacle for Henneberger to overcome.
I asked Politics Daily Executive Editor Carl Cannon to address some of the concerns raised by myself, and others. Ordinarily, I would have folded his responses into the narrative of the article, but I'm including our exchange as-is, in the interest of preserving context: (via email)
Tommy Christopher: Several PD writers have expressed uncertainty about the site's future due to the acquisition, some citing significant cuts in pay for writers. Have there been such cuts, and can you be specific?

Carl Cannon: It's true that we have scaled back the payments to freelancers in recent weeks, and although it wouldn't necessarily be fair to those writers to cite specifics, I can say that this step was taken in an attempt to ensure Politics Daily's survival — you know, to bring costs in line with revenues — and not as some harbinger of trouble.

Tommy Christopher: Also, welcome screen placement drives a significant amount of your traffic. Will Arrianna be in charge of that as well, and do you think Politics Daily will get the same level of promotion on the welcome screen, given that you'll be competing with HuffPo content in most instances?

Carl Cannon: As I understand the merger, Arianna Huffington will oversee all these AOL News and news-related operations, including the AOL Welcome Screen. I've also been told that no decision has been made when (or if ) the AOL and HuffPo operations will become one and the same. So it remains to be seen how the various existing AOL sites and channels will be fused together.

Tommy Christopher: I know Melinda has always had a very strong vision for Politics Daily as a deeper, more mature HuffPo (this was how the site was pitched to us when we transitioned from the Political Machine). How will she handle taking direction from someone whose vision conflicts so with her own?

Carl Cannon: Tommy, I don't remember ever hearing Melinda Henneberger compare Politics Daily directly to The Huffington Post, so I don't know about that. As to how Melinda will handle herself under new management, well, we've already had a change at the very top of the company — and at several steps in-between– since she and I arrived at AOL, and we've worked closely with the new people every step of the way. I'd also say that the writers and editors Melinda hired continue to appreciate her passion, professionalism, vision, and talent — and share her pride in what we've built.

Tommy Christopher: AOL execs told me that Melinda's contract included fairly ironclad carte blanche on editorial/hiring decisions at PD, which could be a somewhat effective firewall against dilution of the site's vision. Can you say when that deal runs out/is up for renewal?

Carl Cannon: I don't expect that the "firewall" you described is all that ironclad — if it even exists. Yes, we've been very independent at Politics Daily regarding hiring decisions, our mission, our news judgment, and all the rest, but we've worked closely all along with AOL News, AOL.com, and other entitites in the company as we've gone along and we've never been under any illusion that we're magically insulated from the corporate hierarchy.

Tommy Christopher: Finally, what would you say to PD writers who are concerned about the site's future, given the concerns I've mentioned, plus the recent shutdown of several successful AOL sites (like Asylum) leading up to the merger?

Carl Cannon: What I would say to people who are concerned about the future of Politics Daily? I would say that this is a concern Melinda and I share. These have been a difficult few years in the news business, as you yourself know. But we will be discussing the details with Arianna Huffington, David Eun, and others with AOL in the coming days and weeks. In the meantime, I believe we should keep putting out the best site we can until or unless we're told not to.
In preparing for this story, Carl correctly pointed out that my prior relationship with Politics Daily (and Melinda Henneberger) might create a conflict of interests. It is true that Politics Daily and I had a tempestuous breakup, and that Melinda Henneberger is not my favorite person, nor I hers.
But, to the extent that I have a dog in this fight, I am rooting for Politics Daily to do well. I still count several of the site's contributors and staff among my friends. Additionally, I have been a freelance writer for AOL for my entire career (even to this day), and have nothing but gratitude for their continued faith in me. Finally, like most freelancers, I'm not a huge fan of HuffPo's content-farm, freebie writer business model, which makes it hard for other writers to get paid, and depresses the wages of those who do.
That is not to say that HuffPo doesn't have its merits, obviously. The journalists they do pay are top-notch, and while their content is frequently watered down by sensational click-bait, HuffPo is often more nimble than Politics Daily at exploiting the microscopic news cycle.
In a perfect world, AOL's political coverage would take the best that each site has to offer, and the two would co-exist, and complement, each other. But the media horizon has historically gravitated toward the lowest common denominator. Only time will tell where that leaves Politics Daily.
Have a tip we should know? tips@mediaite.com