AP Drops 'Illegal Immigrant' From Stylebook: 'Illegal Should Describe Only An Action'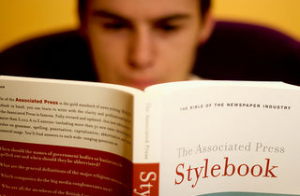 As of today, the Associated Press will no longer use the term "illegal immigrant." The change to the influential AP Stylebook was announced by Senior Vice President and Executive Editor Kathleen Carroll in a blog post Tuesday.
"The Stylebook no longer sanctions the term 'illegal immigrant' or the use of 'illegal' to describe a person," Carroll said. "Instead, it tells users that 'illegal' should describe only an action, such as living in or immigrating to a country illegally."
The new guidelines do not give a single alternative preference to the widely used "illegal immigrant" term, but rather elaborate on ways to describe people's actions without labeling them as "illegal" or even "undocumented." The new entry reads as follows:
illegal immigration Entering or residing in a country in violation of civil or criminal law. Except in direct quotes essential to the story, use illegal only to refer to an action, not a person: illegal immigration, but not illegal immigrant. Acceptable variations include living in or entering a country illegally or without legal permission.

Except in direct quotations, do not use the terms illegal alien, an illegal, illegals or undocumented.

Do not describe people as violating immigration laws without attribution.

Specify wherever possible how someone entered the country illegally and from where. Crossed the border? Overstayed a visa? What nationality?

People who were brought into the country as children should not be described as having immigrated illegally. For people granted a temporary right to remain in the U.S. under the Deferred Action for Childhood Arrivals program, use temporary resident status, with details on the program lower in the story.
The term "undocumented" was embraced as a more humane alternative to "illegal" by activists including Jose Antonio Vargas, who risked his immigration status by writing an article titled "My Life As An Undocumented Immigrant" in The New York Times Magazine in June of 2011. Vargas spoke to On The Media's Bob Garfield about his plans to convince news organizations to stop using the term "illegal" to describe immigrants last September:
Vargas took to Twitter today to celebrate the news and pressure The New York Times and other news organizations to follow suit:



UPDATE: New York Times public editor Margaret Sullivan responded to the AP's change in a blog post, indicating that the Times could make a similar change to its stylebook, but predicting that the "changes will not be nearly as sweeping as The A.P.'s."
On a personal level, Sullivan added, "My position on this has changed over the past several months. So many people find it offensive to refer to a person with an adjective like 'illegal' that I now favor the use of 'undocumented' or 'unauthorized' as alternatives."
[Image via ErikHanson.com]
—
>> Follow Matt Wilstein (@TheMattWilstein) on Twitter
Have a tip we should know? tips@mediaite.com