Apple Co-Founder Steve Wozniak Is First In Line At California Store For The iPhone 4S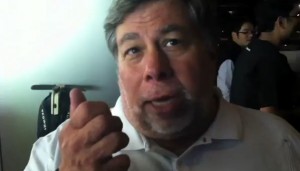 Steve Wozniak freely admits that he can make one phone call and have the new iPhone 4S delivered to him personally, well ahead of its launch. But the Apple co-founder — he was friends in high school with the late Steve Jobs — says he doesn't want the surprise of the phone to be ruined for him. So, with the newest version of the iPhone being released on Friday across the globe, Wozniak showed up at an Apple store in Los Gatos on Thursday and became the first person in line, sleeping overnight and planning to get his phone when its released to the general public, just like everyone else.
This isn't the first time Wozniak has waited in line for a phone. He told Tech Crunch, in an incredibly shaky video, that he still does it because:
"I've gotten so used to loving to wait in line overnight. It has meaning. It's an important part of our life and this is my way of recognizing it. I want to be a part of this."
As for new features on the iPhone, the most talked about is Siri, a personal assistant with artificial intelligence that will answer your voice questions, read out texts, and perform a variety of other tasks. She also, apparently, has a wicked sense of humor and heightened pop culture awareness. The Tumblr site, Sh*t That Siri Says, chronicles some of the better interactions with the program, and should probably grow as users begin toying with the phone throughout the weekend.
Like most people, Siri is what Wozniak is looking most forward to when he finally gets the phone today. "I just want to be able," he told CNN's Mark Milian, "to talk to my phone."
Have a tip we should know? tips@mediaite.com