Arabic Billboard in Battleground State Trolls Trump and He Has No Idea What It Means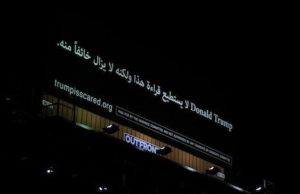 If Donald Trump has any plans to campaign in the battleground state of Michigan over the next three weeks, he and his team may very well pass through the city of Dearborn.
There, along I-94, stands a road-side billboard written in Arabic with only two words in English: Trump's name. The rest of the sign is unknown to anyone who doesn't understand Arabic, and that's exactly the point.
The effort comes from a group known as the Nuisance Committee, an anti-Trump political action committee, and the billboard is meant to convey a very straightforward message:
An Anti-Trump billboard spotted in Dearborn along I-94 that reads "Donald Trump: He can't read this, but he is afraid of it" pic.twitter.com/HBhhS7L37z

— Siraj Hashmi (@SirajAHashmi) October 17, 2016
"Donald Trump: He can't read this, but he is afraid of it," it says.
The city of Dearborn, population 95,000, has the highest concentrations of Arab Americans and Muslim Americans in the United States according to Think Progress.
A press release from the group notes that its aim is to encourage Arab-speaking voters to hit the polls on election day. "[The billboard] targets Arabic-speaking voters in the Detroit area and encourages others, who don't speak Arabic but are curious about its message, to ask a friend what it says," it reads.
The redirect website for the billboard — trumpisiscared.org — reads in part, "his position on immigration has been inconsistent, if not downright illegal." It includes a point-by-point breakdown of the GOP nominee's stance regarding immigration from Muslim countries dating back to his instantly infamous proposed ban.
Despite the best efforts from the Nuisance Committee, it may be a long shot to suggest that the Republican nominee for president stands much of a chance to win there anyway. Michigan and its 16 electoral votes is leaning far to the left; the newest Real Clear Politics polling data reveals that former Secretary of State Hillary Clinton currently maintains an +11.4 point lead over her Republican rival statewide.
—
J.D. Durkin (@jiveDurkey) is an editorial producer and columnist at Mediaite.
Have a tip we should know? tips@mediaite.com