Are Donald Trump's Grievances About the General Election Debate Schedule Fair? Sort Of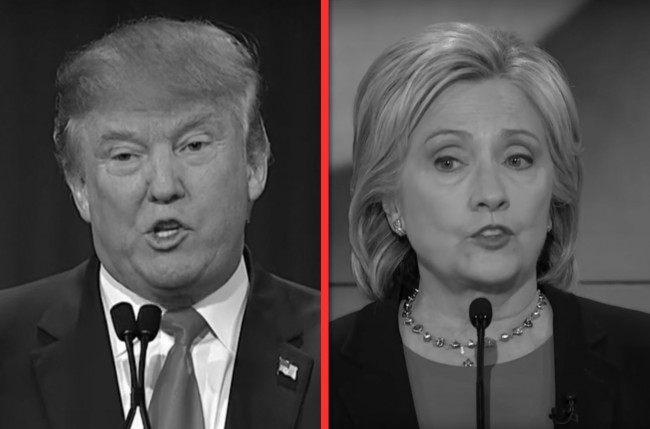 Now that all of the confetti and the tens of thousands of balloons have fallen to officially conclude the nominating conventions, the next big events on the political calendar are clear: the general election debates.
Sure, we have those already-disastrous Olympics to look forward to first, but the Hillary Clinton and Donald Trump campaigns are already preparing for the showdowns in the Fall that will lead up to Election Day. As usual, the candidates themselves will square off three times; the Vice Presidential candidates — Indiana Governor Mike Pence and Virginia Senator Tim Kaine — will also go toe-to-toe in a debate in what will be less riveting television than a Cleveland Browns-Tennessee Titans preseason NFL game.
But speaking of the NFL, that's exactly where the newest bout of controversy comes in, and is the latest topic that the Trump campaign is kicking dirt over. This weekend the Republican nominee took to — surprise! — Twitter to weigh in accordingly:
As usual, Hillary & the Dems are trying to rig the debates so 2 are up against major NFL games. Same as last time w/ Bernie. Unacceptable!

— Donald J. Trump (@realDonaldTrump) July 30, 2016
As for the "trying to rig," part of the claim, that's unsubstantiated for now; but Trump is right about one thing: two of the scheduled debates are up against night games during the NFL regular season, the hallowed time slots for NBC's Sunday Night Football and the iconic Monday Night Football on ESPN.
Here is the general election schedule at a glance:
MONDAY SEPTEMBER 26, 2016: HOFSTRA UNIVERSITY – Hempstead, NY
TUESDAY OCTOBER 4, 2016: LONGWOOD UNIVERSITY – Farmville, VA (VP Debate)
SUNDAY OCTOBER 9, 2016: WASHINGTON UNIVERSITY – St. Louis, MO
WEDNESDAY OCTOBER 19, 2016: UNLV – Las Vegas, NV
The fact that we are going to be treated to three nationally televised Clinton v. Trump (and perhaps v. Johnson) debates is pure insanity. But, let's keep our cool here and stay focused on the schedule, and not the impending media circus sh*tshow that is going to transpire this Fall.
Donald Trump's grievance comes in the form of two of the scheduled debates — 9/26 and 10/9 — which will run directly up against big games on the NFL schedule. The 9/26 outing features the Atlanta Falcons and the New Orleans Saints. While the matchup on the surface may not seem all too impressive (the teams finished 8-8 and 7-9 in 2015, respectively), it is still a NFC South Divisional rivalry, but most importantly, it will be the 10-year anniversary that the Superdome reopened after Hurricane Katrina. It will be an emotional night for the city of New Orleans, undoubtedly packed with heart-tugging video packages to remind viewers of the devastation, rebuilding efforts, and the meaningfulness of the Saints on the city following the 2005 storm that left more than 1,800 people dead.
The next game that bumps up against the Clinton v. Trump showdown is a Sunday night outing that I admit gives me tremendous angst, as my New York Giants take on the Green Bay Packers at Lambeau Field. These are two of football's more storied franchises, and is the exact type of game that brings in off-the-charts viewership from fans of all teams, regardless of whether or not they have a dog in the fight. In a perfect world, both teams will be 5-0 heading into the game making it must-watch TV, though that's probably wishful thinking on my part.
Not to mention the fact that both Clinton and Trump will be vying to win New York State come election day (for ego as much as the electoral college), having the Giants play on that night is a blow to any effort looking for the most visibility.
But it begs the question — who set the debates? And why all the fuss now? If you subscribe to the dogma of the Church of Donald, you believe that the Clinton and DNC machines are responsible for pegging these debates on nights that do not maximize viewership, a long-standing charge the former Secretary of State was hit with repeatedly during the primaries against underdog Bernie Sanders.
But the truth is that a body known as the Commission on Presidential Debates — a self-described, "nonpartisan, nonprofit" effort — announced this information on September 23, 2015; to put this in perspective, at that time Trump maintained a razor-thin lead in the Republican race for the nomination… to Ben Carson. Yeah, remember him? After Carson was Marco Rubio and Carly Fiorina. So let's be honest: the likes of Donald Trump and RNC Chair Reince Priebus kicking dirt over this today is a silly at best (Priebus said on Face The Nation this morning, "Listen, I don't know about whether the commission is rigged, I just think there's a lot of flaws with this commission"), when this information has been made available for a very long time.
Donald Trump complained to ABC's George Stephanopoulos this weekend:
"Well, I'll tell you what I don't like. It's against two NFL games. I got a letter from the NFL saying, "This is ridiculous. Why are the debates against–" 'cause the NFL doesn't wanna go against the debates. 'Cause the debates are gonna be pretty massive, from what I understand, okay? And I don't think we should be against the NFL. I don't know how the dates were picked."
Unsurprisingly, the National Football League was quick to deny that any such letter was sent, though the league did indicate its disappointment in the scheduling. A spokesperson told CNN's Brian Stelter, "While we'd obviously wish the debate commission could find another night, we did not send a letter to Trump."
Is the 2016 scheduling strange by any standards? To this point, Trump actually has a legitimate argument. Here are the election debate dates for the past four general elections:
2000
Tuesday, October 3 at the University of Massachusetts Boston
Thursday, October 5 at Centre College (VP debate)
Wednesday, October 11 at Wake Forest University
Tuesday, October 17 at Washington University in St. Louis

2004
Thursday, September 30 at the University of Miami
Tuesday, October 5 at Case Western Reserve University (VP debate)
Friday, October 8 at Washington University in St. Louis
Wednesday, October 13 at Arizona State University

2008
Thursday, September 26, 2008 at the University of Mississippi
Thursday, October 3, 2008 at Washington University (VP Debate)
Monday, October 7, 2008 at Belmont University
Tuesday, October 15, 2008 at Hofstra University

2012
Wednesday, October 3, 2012 at the University of Denver
Thursday, October 11, 2012 at Centre College (VP Debate)
Tuesday, October 16, 2012 at Hofstra University
Monday October 22, 2012 at Lynn University
Notice anything strange there? There are no Sunday debates. In fact, you need to go all the way back to the first Bob Dole v. Bill Clinton debate on October 6, 1996 for the last time a Sunday debate was scheduled.
Is it a coincidence that during the 2016 Democratic primary process, there were two Sunday debates, in addition to two Saturday night events (including one, comedically, just days before Christmas)? Although the timing seems foolish — likely an effort to drum up headlines following a relatively strong Democratic convention this week — Trump may actually have a legitimate gripe. It's a longshot that there is any rescheduling to be done with the debates, especially seeing as how ten months have gone by without a peep from anyone (also considering my flight to Vegas is booked for October, I certainly hope that one's not budging). But the damage may already be done; even as it is, the schedule is enough for Trump to continue his system-is-rigged rhetoric that has propelled his successful candidacy so far, painting a picture about a corrupt maneuver that keeps Clinton protected. Trump knows these events won't be moved, but that's not what matters; his campaign trail argument has been strengthened by the fact that he just so happened to finally glance at the schedule, and realize he can Tweet his disapproval.
—
J.D. Durkin (@jiveDurkey) is an editorial producer and columnist at Mediaite.
[images via screengrab]
This is an opinion piece. The views expressed in this article are those of just the author.