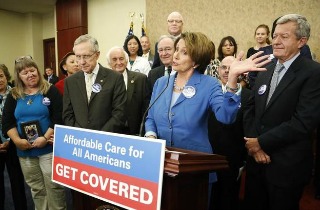 In the latest Democracy Corps Battleground poll, conducted by the Democratic firm Greenberg Quinlan Rosner, the conventional wisdom about the 2014 midterm elections was upended. That poll's release indicated that voters in battleground districts are warming to the Affordable Care Act, and Republicans' repeal message is becoming more of a drag on their electoral prospects than it was last fall when the ACA's problematic implementation was the subject of relentless negative coverage in the press.
"There have been big shifts on wanting to implement and fix the law and big drops in intensity for those who want to repeal and replace the law," the poll's release reads. "What is really striking is that this change is overwhelmingly driven by Independents. In our last battleground survey in December, independents favored repeal by a 12-point margin; they now support implementation by 7 points."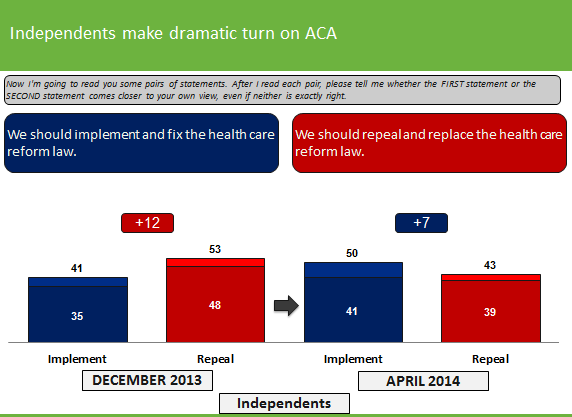 A graphic representation of the Democracy Corps poll shows a striking reversal among independents in the 85 districts identified as electoral battlegrounds this fall; 35 of which are currently represented by Democrats and 50 by Republicans.
So, is the Affordable Care Act now a winning policy on which incumbent Democrats can and should campaign? Not exactly.
The poll found that overall, voters in these districts continue to oppose the ACA. A total of 52 percent of respondents oppose the law, compared with just 43 percent of respondents who support it. In districts represented by Republicans, 41 percent back the law compared with 52 percent who oppose it. In the swing districts which sent a Democrat to Congress, the ACA does not fare much better. 44 percent of respondents in those districts favor the law while 52 percent oppose it.
When asked if those who oppose the law do so because it "goes too far in changing health insurance, or because it doesn't go far enough in changing health insurance," the overwhelming majority of those who disapprove of the ACA said they did so because it was too sweeping. 78 percent of those in Republican swing districts said the law went "too far" and 76 percent of those who oppose the law in Democratic swing districts agreed.
Finally, while Democracy Corps found that Democrats can motivate their voters to turn out in November by focusing on attacking the inaction of House Speaker John Boehner (R-OH) and his conference on the issue of jobs, raising the minimum wage, ensuring equal pay for women, and increasing education funding, voters predisposed to support Democratic candidates were less enthusiastic about the ACA.
GQR asked voters in Democratic districts alone how they would respond to a candidate who made this statement:
I'm proud I voted for the Affordable Care Act because people can finally have insurance they can
count on and everyone will be insured. Insurance companies can't raise rates or drop you when you get sick, older, or have a baby, charge women more than men or set lifetime limits that take away
your coverage when you get sick.
This reads like boilerplate Democratic pro-ACA messaging. But, surprisingly, respondents in Democratic districts were not as supportive of this statement as one would think. A total of 41 percent of voters in Democratic swing districts said that this statement would, to some degree, make them more likely to support the candidate behind it. 50 percent of respondents said that they would be less likely to support this candidate.
RELATED: FiveThirtyEight, HuffPost Destroy Idea of 'Secret Majority Supporting Obamacare'
The data rather clearly suggests that the ACA remains a problem for candidates seeking office in competitive districts, which makes Democracy Corps final conclusion on the political impact of the ACA even stranger.
After combining the minority of voters who support the ACA and the minority of the minority of voters who oppose the ACA because it did not go "far enough," Democracy Corps found that the ACA is popular everywhere.

This is a familiar theme echoed often on progressive blogs, and one that polling analysts with The Huffington Post and FiveThirtyEight demolished weeks ago. After asking respondents in HuffPo's own poll why they opposed the ACA in their own words, analyst Mark Blumenthal found that few respondents were eager to see something akin to a single payer system.
"[V]ery few said they opposed the law because they would prefer a 'single payer' system (6 percent of those answering) or would prefer either the 'public option' or an alternative to ensure 'healthcare for all' (4 percent)," Blumenthal observed.
FiveThirtyEight's Harry Enten agreed, citing Democracy Corps own data from an earlier survey which found more than double the number of self-identified Republicans than Democrats saying the ACA did not go far enough.
It is entirely possible that strictly independent voters are warming to the ACA, though there is a big distinction between support for the law and opposition to repealing the law. But the ACA, for all the progress it has made in the months that have elapsed since the disastrous roll-out, remains deeply unpopular in the country's swing districts.
[Image via Jonathan Ernst/Reuters]
— —
>> Follow Noah Rothman (@NoahCRothman) on Twitter
Have a tip we should know? tips@mediaite.com