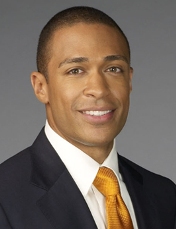 The Arkansas Governor seat has been held by former two-term President Bill Clinton and 2008 GOP Presidential candidate Mike Huckabee.
But someone in Huckabee's current field (TV host) has his sights on the Arkansas governorship in the future – CNN anchor T.J. Holmes.
Holmes was interviewed by Keli Goff in a TheLoop21.com Q&A this month, and when asked who he'd like to trade places with, he named current Arkansas Governor Mike Beebe:
6. If you could trade places with someone in another profession for a day, who would it be and why?
Mike Beebe, the Gov. of Arkansas. That's my home state. People ask me all the time "what's your dream job?" and something I would love to do is be governor of Arkansas. Who knows? Right now I'm certainly involved and busy and got a good thing going with CNN and my career in journalism but really it's politics on that level on a local level—statewide–it's a job in which you can actually reach out and touch people day in and day out and it's my home state so its certainly got my heart in it so it's something I might love to do one of these days.
We likely won't see Governor Holmes in the near future, and instead will continue seeing him on CNN. But when it comes to his role model, the anchor named a person in his current field:
But as far as my job and career goes, Byron Pitts has become a mentor to me. He's been at CBS News for quite some time and he reached out to me and has guided me and taken me under his wing.
—–
» Follow Steve Krakauer on Twitter
Have a tip we should know? tips@mediaite.com