Artist Reimagines 2016 Presidential Candidates as Clowns, and It's Horrifying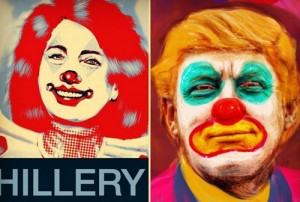 If the 2016 presidential election didn't seem like enough of a circus already, artist Will Espada decided to up the ante with paintings of the major candidates as clowns. By the way, the answer to the question you were about to ask is no, you will not be able to sleep tonight.
Espada runs his studio out of Los Angeles, where his business focused primarily on "focuses on fine art digital archival pigment printing process using high quality color profiled imaging." However, when he's not too busy doing that, Espada spends his time reimagining Bernie Sanders, Donald Trump, Hillary Clinton and the rest of the gang as horrifying, multi-colored clowns.
According to his Instagram account, Espada's been terrifying the Internet since late August. Selection include, but are not limited to, Sanders:
Trump:
Clinton:
Chris Christie:
Ben Carson:
Jeb Bush:
Mike Huckabee:
And many, many others.
For good measure, Espada even threw in a painted Vladimir Putin clown into the mix:
[h/t Will Espada/Instagram]
[Image via Will Espada/Instagram]
— —
>> Follow Andrew Husband (@AndrewHusband) on Twitter
Have a tip we should know? tips@mediaite.com