As Sarah Palin Can Attest, the SNL Effect Could Be a Real Issue for Donald Trump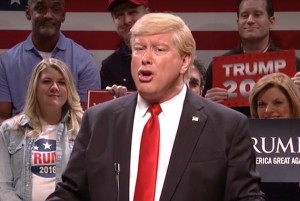 "I can see Russia from my house!"
When looking back on the 2008 campaign, that very quote could be one that folks on both sides of the aisle recite as the most recognizable. And believe it or not, most people at the time weren't aware the line was proclaimed by Tina Fey as Sarah Palin on Saturday Night Live, and not by the vice presidential candidate herself. How much is "most people"? Try 87 percent of those surveyed, per a Zogby poll in October of 2008 who incorrectly thought that quote came from Palin herself.
The SNL effect — an effect that is very powerful and very real going back to Chevy Chase's portrayal of a clumsy Gerald Ford in 1975 — is again on full display via Darrell Hammond's portrayal of Donald Trump, who is providing weekly material for the show that every writer at 30 Rock could once only dream of. Result: Per Nielsen, last night's Saturday Night Live telecast was the #1 telecast of the night on the Big 4 Networks, beating all shows airing earlier in family-friendly primetime in the key 18-49 demo. Translation: When SNL decides to turn a candidate into a caricature, it can be difficult to reverse that portrayal in the court of public perception.
This topic was broached on Fox's Media Buzz, as host Howard Kurtz asked pollster Frank Luntz about how damaging last night's opening skit was featuring Hammond's Trump being so anti-women, he decides to start a "When I say women, you say suck," chant at a campaign rally.
Kurtz: When Trump's supposed alleged hostility toward women moves from the op-ed pages to SNL, is that a cultural barometer? Is that hard to change?

Luntz: It's significant. Look, if people are indifferent to you, you can go either direction. Even if people are starting to get a feeling that there's something wrong, you can still turn it. Once they've decided they don't like you, or more importantly, that they don't trust you, they never come back. No matter what the print journalists say, no matter what TV says. And in this case with SNL, it's now ridicule… It's laughing at him, and it's making a judgement," Luntz explained, reiterating, "Everyone is now laughing at him, not with him."
Hard to argue with Luntz's perspective. And Trump's numbers among registered women voters reflect that, as the GOP delegate leader is sitting in the 70s in the unfavorable category. The SNL skit like the one last night will likely only push those numbers higher (if that's possible) as the portrayal moves outside the media bubble and into the mainstream. Adding: And before anyone says this is just a picking-on-Republican-thing, Kate McKinnon's Hillary Clinton is equally as bad for the Democratic frontrunner when she gets the same attention on SNL. The cariciture has become reality on that front as well…
For those who doubt the SNL effect, let me leave you with this amazing number: Reuters reported following the 2008 election that roughly 10 percent of all voters polled on election day stated their vote had been influenced by an SNL sketch in one way or another. With 131 million Americans voting in that election, that's 13 million people… or greater than the entire population in 46 of 50 states.
Donald Trump had his worst week of the campaign. Easily. And if SNL is any indication, he's very much of danger of moving from candidate to caricature.
As Sarah Palin can attest, it's very difficult to unring that bell.
Watch the MediaBuzz Segment above, via Fox News.
— —
Follow Joe Concha on Twitter @JoeConchaTV
This is an opinion piece. The views expressed in this article are those of just the author.