Report: Clinton Confidante Sidney Blumenthal's Son Compares Israel to ISIS, Praises Terror Attack (UPDATED)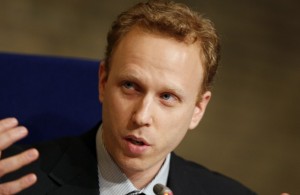 Activist and journalist Max Blumenthal, the son of close Bill and Hillary Clinton confidante Sidney Blumenthal, is in hot water this week, according to a London newspaper. The British government has cut off funding to the charity "war on want," partially due to incendiary remarks Blumenthal made comparing the state of Israel with ISIS, according The Telegraph:
The Department for International Development (Dfid) said that it no longer supported War on Want, which helped pay for "Israeli Apartheid Week" in February this year.

The statement comes as the Telegraph obtained undercover recordings of events where anti-Semitism, demands for the destruction of Israel or naked support for terror were expressed by academics and others at meetings in some of Britain's most prestigious universities.

One speaker, Max Blumenthal, the son of a close adviser to Bill and Hillary Clinton, praised a massacre by Hamas as sending an "incredible message" and said that taking up arms should be "normal" for Palestinians. He compared Israel to the terrorist group Isil, describing it as "the Jewish State of Israel and the Levant, Jsil".
At stake for the group is about $200,000.00 a year in government funding. You can listen to audio of Blumenthal's remarks here.
Update 11:33 p.m. 04.03.2016:
War on Want released the following statement regarding the Telegraph's article:
"War on Want has dismissed the story in today's Sunday Telegraph suggesting that it has had its funding 'pulled' by the UK government and that the charity has been criticised by the government over its support for human rights in Palestine.

John Hilary, Executive Director at War on Want, said: "The story in today's Telegraph is a complete fabrication. War on Want has not sought any UK government support for its operations for a number of years now, so it is absurd to suggest that we have had our funding 'pulled'. The insinuation that we have been criticised by the government for standing up for the rights of the Palestinian people is equally bogus. We will be contacting the Telegraph to help it set the record straight."
Have a tip we should know? tips@mediaite.com