Assange Releases Statement: We Are Not Trying to 'Influence the Outcome of the Election'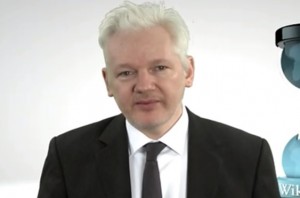 Julian Assange has a statement out today––on election day––insisting that everything WikiLeaks has done over the course of the campaign has not been about influencing the election.
He says that there has been "enormous pressure" to stop WikiLeaks from releasing any more information that could be potentially damaging to Clinton. He defends the email dump thusly:
We publish material given to us if it is of political, diplomatic, historical or ethical importance and which has not been published elsewhere. When we have material that fulfills this criteria, we publish. We had information that fit our editorial criteria which related to the Sanders and Clinton campaign (DNC Leaks) and the Clinton political campaign and Foundation (Podesta Emails). No-one disputes the public importance of these publications. It would be unconscionable for WikiLeaks to withhold such an archive from the public during an election.
The reason, he explains, he's gotten all this Clinton material but nothing on Trump is because since 2010 when they dumped all those diplomatic cables, "we are seen as domain experts on Clinton archives. So it is natural that Clinton sources come to us."
But Assange insists that they are not trying to influence the election, only attempting to release information that is in the public's best interests.
He also lashes out at the accusations that WikiLeaks is either colluding with or allied with Russia:
Yet, some weeks ago, in a tactic reminiscent of Senator McCarthy and the red scare, Wikileaks, Green Party candidate Stein, Glenn Greenwald and Clinton's main opponent were painted with a broad, red brush. The Clinton campaign, when they were not spreading obvious untruths, pointed to unnamed sources or to speculative and vague statements from the intelligence community to suggest a nefarious allegiance with Russia. The campaign was unable to invoke evidence about our publications—because none exists.

In the end, those who have attempted to malign our groundbreaking work over the past four months seek to inhibit public understanding perhaps because it is embarrassing to them – a reason for censorship the First Amendment cannot tolerate. Only unsuccessfully do they try to claim that our publications are inaccurate.
"WikiLeaks must publish," he concludes. "It must publish and be damned."
You can read the full statement here.
[image via screengrab]
— —
Follow Josh Feldman on Twitter: @feldmaniac
Have a tip we should know? tips@mediaite.com
Josh Feldman - Senior Editor