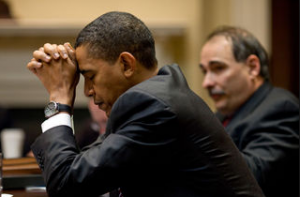 The Freedom From Religion Foundation wrote President Barack Obama a letter on February 4, which just so happened to be the day he addressed the national prayer breakfast and the day after he spoke at a Baltimore mosque about religious tolerance.
The FFRF commended the president on his commitment to so many different religions and belief systems, but asked him to do something "historic" and reach out to atheists in the same way.
Such attention from the Office of the President would demonstrate that freethinkers, atheists, agnostics, secular humanists and rationalists are accepted citizens. As you pointed out in your first inaugural address: "We are a nation of Christians and Muslims, Jews and Hindus — and nonbelievers."
They went on to formally invite him to the Reason Rally, a gathering of atheists and "Nones" outside of the Lincoln Memorial next summer. They gave statistics on how many Americans identify as "Nones" alongside examples of freethinkers who have been good citizens, which they are tired of being told is impossible without a religious code to follow. In fact, they expressed an interest in Obama appearing at their rally because it would combat the "reprehensible prejudice and ubiquitous social stigmatization" they face.
Calls for politicians and leaders to embrace atheists have not gotten tepid reception in the past, but the FFRF is undeterred. They pointed out that the Constitution is secular and bars the insertion of religion into state leadership, but that small numbers of people in Gallup polls will admit that they would vote for an atheist. Thus, they called on Obama to "send a signal that the marginalization of a quarter of the U.S. population is unacceptable."
[image via screengrab]
For more from Lindsey, follow her on Twitter.
Have a tip we should know? tips@mediaite.com