Australian Radio Hosts Delete Twitter Accounts, Face Calls To Resign Following Kate Middleton Prank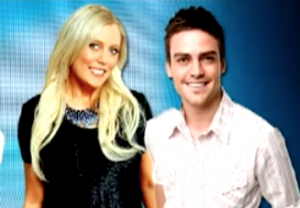 With today's tragic news that the nurse who answered the prank call made to the hospital where Kate Middleton was being treated apparently committed suicide, comes a wave of backlash directed at the two Australian radio presenters who made the call. Unsurprisingly, much of the response — particularly online — has placed blame on the hosts, calling for their resignation.
RELATED: Nurse Who Answered Kate Middleton Prank Call Found Dead In Suspected Suicide
Jacintha Saldanha, a nurse at the hospital, was found dead two days after she answered a prank call from Mel Greig and Michael Christian, who were impersonating the Queen and Prince Charles. Unwittingly, she passed the call along to another nurse who divulged details about the Duchess' condition.
Below is a sampling of the outrage and anger directed toward the hosts on Twitter: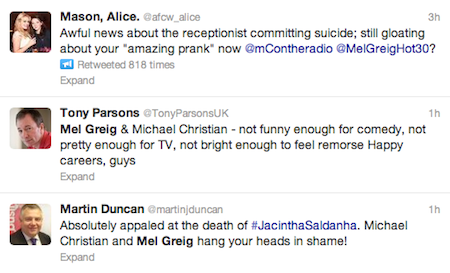 There's also a petition, calling for 2Day FM radio to "dismiss Mel Greig, Michael Christian and all those involved for gross misconduct." Journalists "should be held to higher standards," it says.
Neither Greig nor Christian have made a public statement — and both of their Twitter accounts (@MelGreigHot30 and @MContheradio) have been deleted. TMZ reported that they have been "ordered" not to speak to the media.
UPDATE: The radio station released the following statement:
Southern Cross Austereo (SCA) and 2Day FM are deeply saddened by the tragic news of the death of nurse Jacintha Saldanha from King Edward VII's Hospital and we extend our deepest sympathies to her family and all that have been affected by this situation around the world.

Chief Executive Officer Rhys Holleran has spoken with the presenters, they are both deeply shocked and at this time we have agreed that they not comment about the circumstances. SCA and the hosts have decided that they will not return to their radio show until further notice out of respect for what can only be described as a tragedy.
Have a tip we should know? tips@mediaite.com